Two awesome excursions, one great day out!
We are exciting to be able to offer a double header for Term 2! Brickman and Sydney Tower Eye are proud to present LEGO® Cities, an opportunity to see iconic city landmarks in LEGO® before heading up to the Observation Deck to study a real city from Sydney's highest viewpoint. Tickets also include the opportunity to take in LEGO® 4D movies in our movie theatre. See below for more details!  
Watch now for a sneak peak of Brickman CITIES!
Let us take you on a quick tour of what your school group can expect to experience at the Brickman CITIES exhibition. Hear from visiting students as they share with us their highlights, but don't take it from us, come and see for yourself! 
Tickets will be on sale during Term 2, book early to ensure your preferred excursion date is available! This unique double excursion opportunity will run until July 11th, don't miss out! 
History as you've never seen it before!
Explore some of the world's greatest cities, recreated with LEGO® bricks! Take in the history of Sydney, Tokyo and Dubai from 1000AD to present day, spot some famous historical moments represented in mini-figures and bricks and view the history of LEGO® CITY from the 1960s and beyond. 
This exhibition took over 2,000 hours to build with a clear focus on education. It is smaller, more immersive and more intricate than previous exhibitions with the detail creating far more learning outcomes in a wider range of disciplines. 
ENQUIRE HERE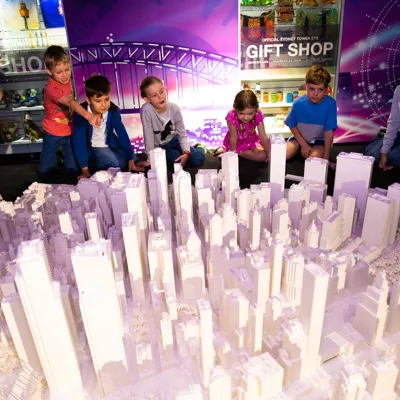 Experience the WOW factor of these massive builds!
Be transported to The Big Apple with a highly accurate scale model of Lower Manhattan built entirely from white LEGO® pieces. This is just one of the brand new pieces bringing the WOW factor to this exhibition; there are eight massive skyscrapers never seen before at a Sydney exhibition as well as some really intricate moments throughout the displays, designed to engaged and inspire your students. 
600,000 LEGO® bricks have gone into creating this incredible exhibition, there's so much to discover and be amazed by! 
BOOK NOW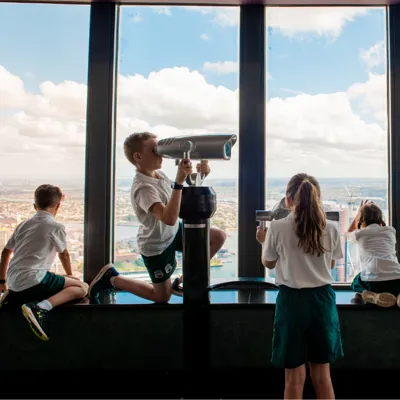 Explore more from Sydney's Highest Viewpoint!
The Sydney Tower Eye Observation Deck provides 360 degree views of the city, where you can study some of the iconic Sydney landmarks made from LEGO® in real life. Engage your students in the history and geography of this great city with a two centre excursion that provides a unique learning opportunity. 
SAVE YOUR DATE
Brickman & Sydney Tower Eye Present: CITIES - Pricing
Entry into Brickman exhibition AND Sydney Tower Eye Observation Deck - price per student
$29.00 
Sydney Tower Eye excursion only - price per student
$11.00

Free Teacher Ratios

Preschool

Years K - 2

Years 3 - 12

 


1:3

1:6

1:8

Additional Teachers 
$17.50