Latest Update
Staying Safe
at Sydney Tower Eye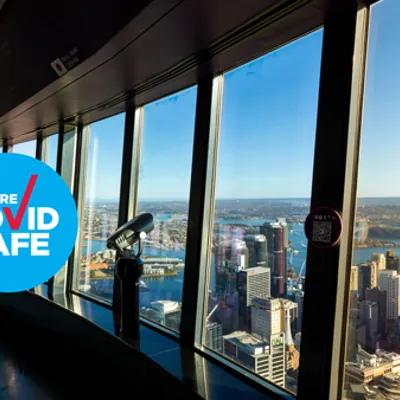 We are now open!
In line with government guidance, the Sydney Tower Eye Observation Deck, SKYWALK, and Brickman Cities powered by LEGO® City has reopened for guests who are fully vaccinated guests only (note: children under 16 years & guests with medical exemptions will not need to be vaccinated to visit). 
We continue to implement a range of health & safety measures that are in line with Government advice, and all of our plans and visitation guidelines are subject to NSW Health Orders at the time of reopening. 
If you find yourself in the unfortunate case of purchasing a ticket & needing to postpone your visit due to Covid restrictions, we will honour your tickets for 60 days from the date of our reopening.
For more information regarding rescheduling your tickets please scroll down.
EYE look forward to welcoming you back to Sydney's ultimate viewpoint soon!
Book Now
Attraction Vaccination Policy
Government guidance stipulates that only fully vaccinated adults may enter indoor entertainment venues whereby our attractions fall under this category. It's important that we follow these guidelines in order to operate safely, along with a range of other measures we have put in place.
Proof of vaccination will need to be provided alongside a valid photographic ID.
A COVID-19 digital certificate
You can download your COVID-19 digital certificate using:
You can add your COVID-19 digital certificate to your smartphone Apple Wallet or Google Pay. Instructions are available on the Services Australia website.
Immunisation history statement
Your immunisation history statement shows all vaccinations you have had that are recorded on the Australian Immunisation Register. This includes your COVID-19 vaccinations.
You can get a copy of your immunisation history statement on:
Instructions are available on the Services Australia website.
If you can't get proof of your vaccination online or you don't have a Medicare card
NOTE: The government have announced an upgrade to the Service NSW app from the end of October, which will allow guests to both check-in and show confirmation of being fully vaccinated using the Service NSW app. Our current stipulations are subject to change in line with government advice.
Children over the age of 15 years are required to be double vaccinated unless they have a medical exemption.
All NSW based staff will be required to follow requirements of the NSW Government public health order.
Only fully vaccinated people, children under 15 years & guests with exemptions are permitted to enter our attractions, according to current Government guidance. Unfortunately, we cannot make exceptions for those who have received one vaccination; however, our bookings team is happy to work with you to rearrange a date for your visit once you have become fully vaccinated.
Postponing your visit
Please note due to the changing Covid situation, we are honouring all ticket sales for a further 60 days from when our attractions re-open. 
If you have pre-purchased tickets & need to postpone your visit, simply visit our attractions within 60 days of when our attractions first re-open using your original ticket & make sure to pre-book a timeslot here
If you have any outstanding issues or questions please submit them to our customer care team here:  STE.POS@merlinentertainments.com.au 
Wearing Masks Indoors
A: In line with the most recent NSW health advice on Covid-19, mask wearing is now mandatory in our attractions for all attendees 12 years and over and excludes those with certain health conditions and / or disabilities.
A: A face covering is not mandatory in our indoor attractions under some circumstances including:
Infants and children under the age of 12 years but it is encouraged that children wear a mask where practicable.
A person who is affected by a relevant medical condition, including problems with their breathing, a serious condition of the face, a disability or a mental health condition
Persons who are deaf or hard of hearing, where the ability to see the mouth is essential for communication
When consuming food, drink or medication
For latest updates in regards to the guidelines about face coverings please monitor the NSW Department of Health website.
A: The public health order indicates that you are exempt from wearing a mask if you have a medical excuse. This includes, but not limited to, if you have a physical or mental health illness or condition, or disability, that makes wearing a mask unsuitable (for example, a skin condition, an intellectual disability, autism or trauma).
Please let our staff know if you have a medical exemption upon your arrival. 
A: Staff will wear a face mask at our attractions in accordance with the State Government recommendations.

Prior to your arrival:
Please make sure you have made your booking online where possible. This includes pre-paying and selecting the date and timeslot of your visit.
Our valued Annual Pass members can pre-book their timeslot here. We have extended Annual Passes to ensure you can still enjoy an entire year of visiting the attraction. Check your new expiry here.
Those with pre-purchased open-dated tickets and third-party tickets can pre-book here.
Before leaving home, please check our Facebook page or website for the latest information.
Please be ready to make on-site payments using a 'contactless' bank card, rather than cash.
We politely request that you refrain from visiting our attraction should you start displaying any of the symptoms associated with COVID-19. Please contact us via our helpdesk should you need to amend your booking.

On arrival at Sydney Tower Eye
We have significantly reduced the daily ticketed capacity to allow for social distancing and the best possible guest experience. Please make sure you pre-book your slot before visiting.
Guests will notice new information signage informing them of key safety messages and instructions.
In line with government requirements we will record contact details for all guests to ensure contact tracing may be conducted if necessary.
Please note we are a cashless attraction. We only accept cards and contactless payment options.
It is recommended that all guests over 12 years of age wear a face mask when visiting our attraction.


We thank you for your custom and understanding. We are committed to minimising the risk of Covid19 transmission and if you feel that there is a failure in this or subsequently test positive for COVID-19 after your visit, please contact us through STE.POS@merlinentertainments.com.au.
Now, let's make new magical memories together!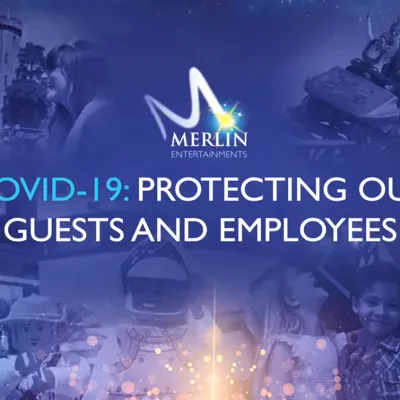 COVID-19 I Safety Video
At Merlin Entertainments Protecting the Magic is about driving a positive, proactive culture of safety across all our attractions. It helps our leaders, people and business partners identify and manage risks effectively, prevent accidents and deliver unforgettable guest experiences.
We focus all our energy on looking after our guests, colleagues, contractors and the animals in our care. Our mission is clear – to always ensure we're Protecting the Magic every day through world class people and practices.
Stay connected with us
Stay tuned & be the first to know about our latest updates!