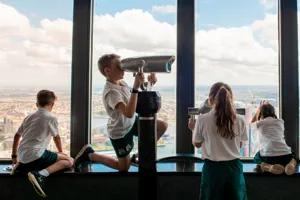 Sydney Tower Eye excursions offer the ideal venue for your students to visualise their studies
Bring your lessons to life with 360 degree city views, where students can immerse themselves in Sydney, past and present, all from one location!
Travel up through the centre of Westfield in one of three double decker lifts, to the Observation Deck. Here students can use binoculars and touch screens to explore the cityscape, from The Rocks to Botany Bay, taking in the fun facts scattered throughout the attraction. Our free downloadable study resources will compliment your visit by providing specific activities for your students to complete.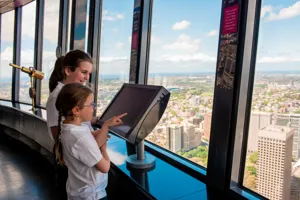 World Teachers Day - TEACHERS GO FREE
This World Teachers Day, we are showing our appreciation to teachers by offering them a FREE day out at Sydney Tower Eye during selected dates this October. 
Learn More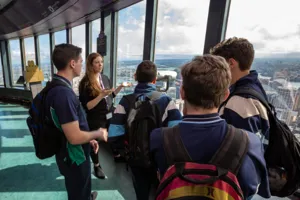 Explore the city from Sydney's highest viewpoint
Our self-guided tours offer you the flexibility to focus on the topic of your choosing to closely align with your classroom learnings. Touchscreens and fun facts are found throughout the Sydney Tower Eye, providing guidance on finding key landmarks and building on your students knowledge of the city.
We provide a selection of resources to use before, after or during your excursion, with options for different stages. All covers different disciplines, including maths, history and geography. Please see our teacher resources page to download these ready for your visit.
BOOK NOW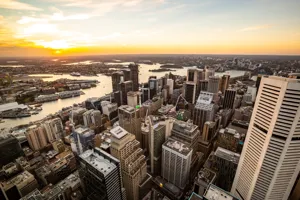 Planning an overnight stay in Sydney?
For schools enjoying an overnight stay in Sydney we offer the option to visit us during the late afternoon, a beautiful time to visit and a great way to schedule in a Sydney Tower Eye visit around your other city activities. If you're visiting between mid-Autumn and early Spring this is a chance to watch the sunset from the tower. Be sure to check the sunset times that align with the month of your visit. To make this easier we have added these to our 2020 Education Calendar for Sydney Tower Eye.
Download your 2020 Education Calendar, including sunset times, here!
BOOK NOW
Guided Tours for Schools
*Please note that our school guided tours are currently on hold until further notice. This is to ensure we maintain social distancing during current restrictions. Our self-guided tours are however available to all schools, see above for details.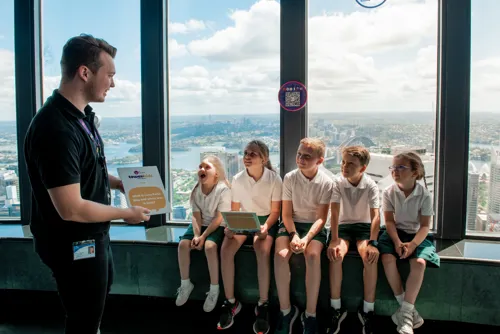 Our guided tours take your students to new heights, providing them with a bird's eye perspective on our wonderful city of Sydney as well as a unique opportunity to get behind the Sydney Tower brand with a real-life business case study!

TOWER Kids provides students with a 'Welcome to Sydney' guided tour around the observation deck, giving them a 360 degree historical and geographical view of Sydney taking in key landmarks and areas significant to Sydney and its culture. Students will be actively involved in a number of discovery and fact finding activities along the way. 
Age: K-6
Tour times: Monday-Friday 9.30am, 10.30am, 11.30am, 1.30pm and 2.30pm
Tour duration: 45 mins
Number of students: max. 60
Cost: $3 per student (+ school general admission ticket)

TOWER Teens includes the guided tour "Sydney Tower Eye - Behind the brand!" providing students with insights into the marketing and operations required to run the business. This is a unique opportunity to experience the product first-hand while learning about a real-life business case study!
Age: Years 10 - 12
Tour times: Monday-Friday 9 am and 2pm
Tour duration: 1.5 hours
Number of students: max. 30 per time slot
Cost: $9 per student (+ school general admission ticket)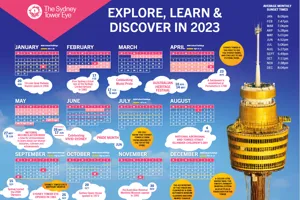 FREE 2023 School Calendar
A quick and easy reference for celebrated days such as World Pride, 2000 Sydney Olympics and National Aboriginal and Torres Strait Islander Children's Day - ideal opportunities to source great content to boost your lesson plans, plus the calendar is a great tool for planning your next school excursion! 
Download Here