VR Tower Coaster Experience
Closed For Maintenance
IMPORTANT NOTICE
Our Virtual Reality Experience is currently closed for maintenance from 5th -10th December. We apologise for any inconvenience. However get ready for NEW, exciting rides when it re-opens. 
Dare to ride? Sydney's Ultimate Virtual Reality Experience is Here!
At the top of our city - Sydney Tower Eye Observation Deck - our ultimate VR Pods will take you on an exclusive & unforgettable virtual adventure above Sydney, where you can see the city from a totally unique perspective!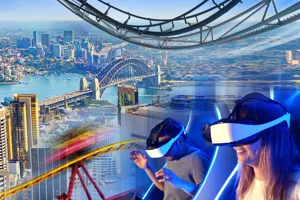 HAPPY BIRTHDAY
Are you celebrating a birthday? Present your ID to one of our staff when you get here for a FREE VR ride on us! Celebrate with us, with a wild ride. 
Book Now
Choose your type of admission ticket below and you can add-on 'VR Tower Coaster Experience' to your cart for just $15 (per person)! Get ready to be transported to our new (virtual) height!
Please note the VR coaster has a height requirement of minimum height 1m.