SKYWALK Tickets
Sydney's Highest Outdoor Adventure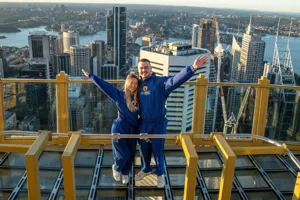 WELCOME TO SKYWALK!
Step out into the open air on the tallest building in Sydney for a breath-taking 60-minute SKYWALK tour. 
You'll be walking on air at the highest outdoor viewpoint (268m) in this city, with the CBD directly beneath your feet, while our friendly guides point out iconic landmarks and share the best of Sydney stories!
Continue to enjoy the views with access to the indoor Observation Deck before and after your tour. Don't miss out this chance to tick off Sydney's highest outdoor adventure from your bucket list!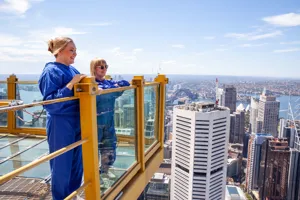 Your Experience
60-minute experience, including a fully-guided SKYWALK tour 
Access to the internal observation deck before and after your tour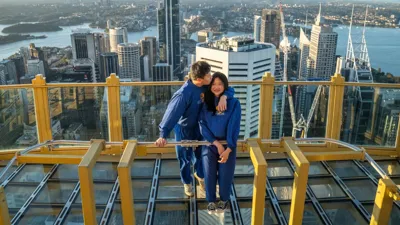 SKYWALK + Observation Deck Gift Voucher
Sydney's Unique Gift Idea!
60 minute experience, including fully guided SKYWALK tour around the outside of the top of Sydney Tower
Minimum number allowed to book is 2 people. Due to health and safety reasons we are unable to cater for single persons on SKYWALK
Access to the indoor Observation Deck before and after your SKYWALK tour
Include a gift message for the receiver!
The guide was awesome and very knowledgeable of the area. We thoroughly enjoyed the outside skywalk much higher than the Sydney Harbour Bridge. Definitely recommend the outside walk, well worth the money.
Although my friend and I were born in Australia and live in Sydney we have never done the SKYWALK. This was such a great experience and we learnt so much. All the staff are absolutely lovely. Thank you for the experience.
Having climbed the bridge in the past, we wanted to do something different this year. The Sydney Skywalk did not disappoint. The views were amazing and we had a great time. The staff were good fun and the photos that you could buy were good value. A must for all ages.
Must visit for 360 degree views. For even better views in open air go for the skywalk :)
Frequently Asked Questions
Guests must be aged 10 and older to participate in SKYWALK. Guests aged under 18 are required to be accompanied by a guardian aged 18 and older. One adult per child aged 10 years, one adult per three children 11-17.
Guests must arrive 45 minutes before their SKYWALK start time and present photo ID upon arrival.
Please wear closed-in shoes and pants or shorts (no skirts or dresses).
Please bring photo ID and ensure you wear closed-in shoes and pants or shorts.
There are no loose items permitted on skywalk for safety reasons, including cameras. We provide lockers for all your personal belongings and take photos for you. 
Our Weather Promise means you can book with confidence. If the weather isn't desirable on the day of your visit, you can return anytime within the next 7 days. Find out more.
The experience is 60-minutes in total.
Accepted Forms of ID
Australian Residents
Current Driving Licence issued by an Australian state or territory
Current Proof of Age Card or Photo Card issued by an Australian state or territory
Current Australian Passport
International Guest
Current International Passport
Current Driving Licence/Proof of Age card WITH SUPPORTING IDENTIFICATION
For Example: A guest has identification (Foreign Driving Licence) with Name/DOB & Photo AND a credit card that matches by name.
NOT ACCEPTED
Photo on camera/phone of an ID/Passport
Credit card only
Foreign ID without supporting identification.
You can book online! When you book online and in advance you can SAVE! Plus, by booking online means you guarantee your spot. 
Did you know you can SAVE on SKYWALK with your Merlin Annual Pass? That's right, save $47 per adult. You can find the booking specifically MAP holder at the above session on this page.
Yes, although if you book online and at least 1 day in advance you can save!
If you have further questions before or after your visit, you can contact our on-site team through emailing to  STE.POS@merlinentertainments.com.au. We will be in contact with you shortly.
EYE look forward to seeing you on SKYWALK!
Looking for a Unique Gift Idea?
Gift Voucher FAQs
On completion of your transaction, you will receive a ticket via email. Click on "View Tickets" then either print it out or save the ticket to your electronic device and email to the recipient.    
Gift vouchers are valid for 3 years from the date of purchase.
Follow the booking instructions on the Gift Voucher, or email STE.POS@merlinentertainments.com.au for assistance.