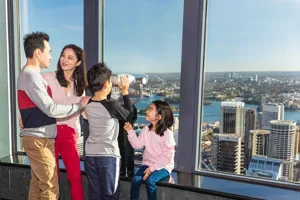 Did you have your photograph taken at Sydney Tower Eye?
If you purchased a photo from the staff at one of our themed photo opportunities when you visited Sydney Tower Eye, you can enter the code here to view and download it. 
The code can be found on the photograph itself or on the photo pack if you purchased the pack. 
View your photos
Need help?
If you have any questions about photographs you purchased at Sydney Tower Eye, or if you're experiencing technical difficulties viewing the pictures after entering your code and clicking the button, please contact the Magic Memories support team.
Please note that in-attraction photography is operated by a third party business called Magic Memories - a separate company to the Sydney Tower Eye.
Contact here