Make your mum in LEGO® form this Mother's Day at Sydney Tower Eye!
Friday April 30th 2021
Mother's Day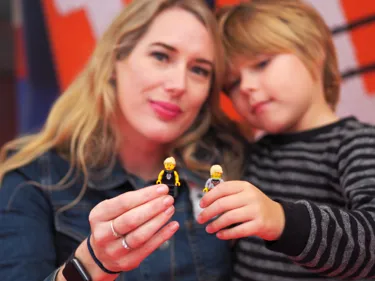 Forget bath bombs and body lotions, what's a more unique gift this Mother's Day than a very own version of your mum…in LEGO®!
For one day only on Mother's Day, you can wow your mum by making a mini-figure of her made from LEGO®, free with every child ticket purchased to visit on May 9th, 2021 at Sydney's ultimate viewpoint. This offer is a part of Sydney Tower Eye's limited time exhibition experience – Brickman Cities powered by LEGO® CITY created by LEGO®, Masters Judge Ryan 'The Brickman' McNaught.
Not only can you make your mum in mini-figure form, you can also treat her to a trip around the world as the exhibition explores the life and architecture of five of the world's greatest cities; New York, London, Tokyo, Dubai and, of course, Sydney! The exhibition features over 20 models created from over 600,000 LEGO® bricks and includes 8 massive skyscraper models not seen in Sydney before!
When you've finished globetrotting with mum through The Brickman's awe-inspiring LEGO® cities head up to the Observation Deck and take mum's breath away with a 360-degree view of the city before heading to the 'Make Your Mum' LEGO® station.  Personalize your LEGO® minifigure mum by selecting from a variety of different bodies, heads, and hair LEGO® pieces. With a total of 1,512 unique minifigure mum combinations available, you can be sure to build a bespoke gift for mum this Mother's Day.
But be quick – stocks are limited! Book your tickets here now!
Book Now
What: Make Your Mum in LEGO® form this Mother's Day at Sydney Tower Eye
When: Available for one day only – May 9th between 10am – 6pm.
Cost: Personalized LEGO minifigure mum is FREE with any full price adult's ticket.
Book Now
Add on your LEGO Brickman exhibition when buying Sydney Combo tickets or Skywalk!
SKYWALK + Observation Deck
Online From
$95
Per Adult
60-minute experience, including fully guided SKYWALK tour around the outside of the top of Sydney Tower
Access to the indoor Observation Deck before and after your SKYWALK tour
Minimum number allowed to book is 2 people. Due to health and safety reasons we are unable to cater for single persons on SKYWALK
Book Online To Guarantee Entry