Eye Love F45
Sydney Tower Eye x F45 Zetland & Alexandria
Ready to sweat for a great cause at Sydney's ultimate viewpoint?
For one morning only, the Sydney Tower Eye will transform into Sydney's most unique work out space! 
We have teamed up with
F45 Training Zetland
and
F45 Training Alexandria
, to hold a unique fundraising event - "Eye Love F45".
We are calling Sydney-siders to Do Good and Feel Good on Sunday 11th September at 8:30am! Join us for special 45 minute F45 workout with all proceeds of tickets sold donating to national suicide prevention charity R U OK?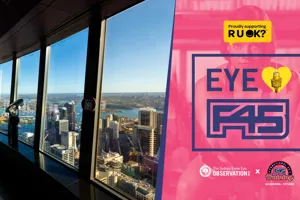 Join Us at "Eye Love F45" - Sydney's Highest Work Out
Eye Love F45 ticket holders will be given exclusive early morning access ahead of participating in a 45-minute sweat dripping and heart pumping fun session in the attractions 360-degree Observation Deck.
What: 45 min functional training session and exclusive access to the Observation Deck
Where: Sydney Tower Eye - accessed within Westfield Shopping Centre, Level 5, 108 Market Street, Sydney NSW 2000
When: Sunday 11 September 2022
Time: 7:45am doors | 8:30am training session | 9:45am concludes
Cost: $30 per person, all proceeds going to R U OK?
Please note this is a 16+ event.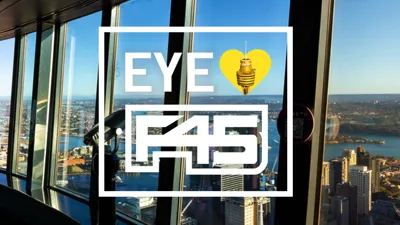 Eye Love F45 (Event Ticket)
One-time Opportunity to Experience Sydney's Highest Work Out!
Exclusive early access to Sydney Tower Eye at 8:30am for you & your group
Unique fitness opportunity to experience the globally recognised F45 fitness challenge at Sydney's ultimate viewpoint
45 minutes of guided functional fitness training across 10 exercise stations
All proceeds raised from this one-off event will be donated to charity R U OK?
Frequently Asked Questions
F45 is a functional training session in a 45 minute time frame. F45 caters for all fitness levels and exercises can be scaled to suit the individual.
Registration and security check are required before we go up to Sydney's ultimate viewpoint and begin the session. To make sure you have enough time and not miss the briefing, all participants must arrive 7:45am at the admissions desk of the Sydney Tower Eye, located at Level 5 in Westfield Sydney. 
Bring your best smile! Oh and a towel and water bottle! 
A high-intensity interval training session comprised of body-weight exercises whilst admiring the incredible 360 degree views of Sydney! The workout stations will include Burpees, Lunges, Squats, Seal Jacks, Flutter Kicks, A-Steps, Triceps Dips, Wall Sit, and Push Ups.
Coaches from F45 Zetland and Alexandria will be kindly donating their time for this wonderful event.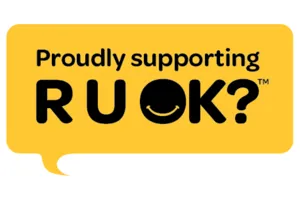 More About R U OK?
R U OK? is a harm prevention charity that encourages people to stay connected and have conversations that can help others through difficult times in their lives.
R U OK? contributes to suicide prevention efforts by encouraging  people to invest more time in their  personal relationships and building the capacity of informal support networks – friends, family and colleagues - to be alert to those around them, have a conversation if they identify signs of distress or difficulty and connect someone to appropriate support, long before they're in crisis.
Further information are available at ruok.org.au.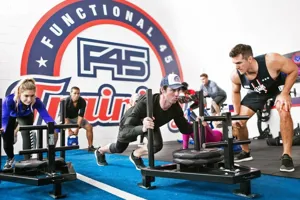 More About F45
F45 Training stands for functional training in 45 minutes. The functional training combines a mixture of circuit and HIIT-style workouts that incorporate everyday movements. F45 studios have thousands of exercises in their terminal, so the workouts are always fresh. But don't let the term "functional movements" fool you; their heart-pumping workouts are bound to have you dripping in sweat.