How To Spend 24 Hours in Sydney
Tuesday September 11th 2018
Sydney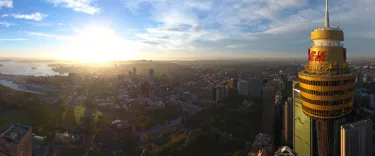 Sydney is a wonderful city and there is so much to see, do and explore but, if, for some reason, you're only able to make a flying visit, here's how to spend 24 hours in Sydney that will be so memorable you will feel like you were here a lot longer. You will be amazed at how much you can explore in one day.
Feast on breakfast, then walk it off
Whether it's a vegan set menu, pancakes, warm porridge or a good old-fashioned greasy fry-up that floats your boat, you will certainly not be short of choice for a good breakfast in Bondi, many of which are set on the beachfront, overlooking the famous Bondi Beach where hundreds of thousands of tourists flock each year, and if you are lucky, you may even spot some of the lifeguards from the famous TV show, Bondi Rescue. Watch the sunrise and the surfers catch the first waves of the day as you sip on a nice warm cup of coffee or a delicious smoothie.
After brekky, you can hit one of Sydney's most iconic walking trails, the leisurely 3km Bondi to Bronte coastal walk. Walk off your breakfast as you take in panoramic views of the South Pacific Ocean and the breathtaking coastal cliffs. If you're lucky enough you may even spot some whales or dolphins (in the right season, that is).
Watsons Bay, Manly and Darling Harbour
Just a short bus ride from Bondi is Watsons Bay, Sydney's oldest fishing village that is rich in indigenous and colonial heritage, full of cliff top and coastal walking trails, and even has a nudist beach. Spend some time exploring this waterfront haven before hopping on the ferry to Manly, where you can stop for a spot of lunch and some shopping, before catching a ferry to Darling Harbour, the heart of Sydney that is always full of life.
Sydney Tower Eye
We highly recommend making the short 15-minute stroll up from Darling Harbour up to Sydney Eye. It is the tallest building in Sydney and the only place that has 360-degree views of the city and the harbour, and on a clear day, you can even see the Blue Mountains, located 80km away. You won't find a better place to watch the stunning sunset than up here.
Spoilt for Choice
There are so many different options for you to end your day in Sydney. From rooftop bars to harbour-side restaurants where you can see all of Darling Harbour and the city lit up and can hear the sound of the water lapping the moored boats and water taxis. If you want some proper entertainment, we recommend you hop on board one of the showboats where you can enjoy a cruise around the harbour while eating a delicious meal, sipping on your favourite tipple and watching a show or some live music.
We may be a little biased, but Sydney really is the best city in the world.