6 Things You Didn't Know About Sydney Tower
Thursday December 26th 2019
Sydney Tower Eye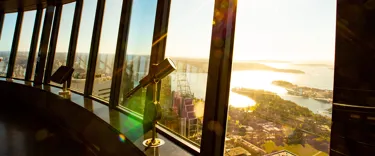 There are bush walks and city walks, power walks and pram walks. For a completely different kind of amble, try the SKYWALK at Sydney Tower Eye. When you venture 268 metres above the Sydney streets, you can see the city from a whole new perspective. With construction kicking off in the late 70s, Sydney Tower finally opened in August 1981. Long a part of Sydney's character, get to know this unique experience better.
A Sky-high Record
In 2015, two people broke the World Record for the Highest and Longest Live Streamed Kiss – right here at Sydney Tower. See this super-long smooch here! With the assistance of radio station, 2Day FM, these two locked lips for a whopping 5 minutes and 15 seconds, all while on top of the world.
Highest Outdoor Adventure
Even though this is an eagle-eye vantage point, the experience is more serene than extreme. It's the kind of adventure where you feel as if you're the only person in the world. Up there, taking in the expansive views, this experience gives you a unique perspective of the big blue harbour with its traversing ferries. See the tiny Sydneysiders walking here, there and everywhere and even the blue mountains on a clear day. From this height, you'll understand just how superb Sydney is. 
Great Guided Tour
Out in the open air, high above the city's other structures, make sure you don't miss the Sydney Tower Eye SKYWALK tour. When you visit Sydney's tallest building, your 60-minute tour will kick off with you getting suited up, and strapped into a safe and comfy harness. After you've been kitted out, your helpful guides will take you outside onto the metal walkway. This is a new level of freedom; with the breeze and sun on your face, it's an all-sensory, elemental experience.
It's a Glassy Place
This striking and imposing structure has a total of 420 windows! Imagine having to clean all of those; lucky these glass panels are kept clean by a semi-automatic window cleaning machine, affectionately named 'Charlie.' This clean-glass loving device recycles and filters 50 litres of water, each cleaning cycle, and working as hard as it can, takes a whole two days to render the windows squeaky clean.
Any Other Name
You may have heard it referred to as Centrepoint Tower, AMP Tower, Westfield Centrepoint Tower or Sydney Skytower. Having been an essential part of Sydney's skyline for over 30 years, this sky-reaching structure goes by its original name: Sydney Tower. Sydney Tower Eye is actually the name of the viewing attraction located on the upper level; the highest point in the city with unrivalled views.
Different by Design
The intelligent design, engineering and construction of this tower means it can withstand everything from extreme wind conditions to earthquakes. Forty-six pre-constructed barrel components make up the tower shaft, with the four floors of the turret being made at the shaft's base, then lifted to the top. Once the tower was standing, the spire was raised in two parts; the top section lifted onto the bottom section. Stabilised by 56 cables, when laid end-to-end, they'd these beautiful, functional features would span from Sydney to New Zealand.