A Little Bit of History
Thursday August 9th 2012
SKYWALK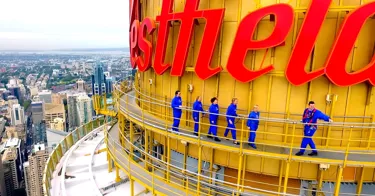 In 1858, Sydney and Melbourne were linked by telegraph, so today on SKYWALK we wanted to celebrate this significant historical event by taking fun shots of our SKYWALKERS "linking" hand in hand.
If the thrill of walking on the edge excites you and you love being in front of the camera, what are you waiting for? Book your ticket online and join us on a SKYWALK. Where else will you get to take crazy snap shots 268m above Sydney?
There are plenty of photo opportunities and as you can see we like to personalise your SKYWALK experience, leaving you with memories that will last forever.
Blog by Kannyka :)