Best Photo Spots in Sydney
Monday September 24th 2018
Sydney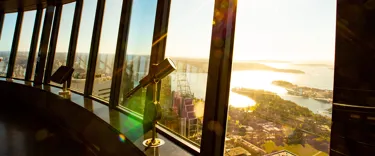 If you're planning a trip to Sydney and want to ensure you visit all of the most instagrammable locations in Sydney, then you've come to the right place. We know there are so many amazing places to see and discover in Sydney, so we've not only put a list together of all the best photo spots in Sydney, but we've mapped them out as a full day of sightseeing for you, so you can really make the most out of your trip.
1. Bondi Beach
Start your day watching the sunrise on one of Australia's most famous beaches. The sweeping sands of Bondi Beach stretch for 1 kilometre, it is here you will find surfers that are drawn to the reliable waves, or Sydney locals out for their morning run or doing laps in the ocean pool. Watch and capture the sunrise from the beach, or from one of the local cafes while you enjoy a delicious breakfast and sip on a cup of coffee. For even more dramatic scenery, follow the Bondi to Bronte Coastal Walk, and take in the beautiful Sydney coastline.
2. The Royal Botanic Gardens
Head over to an oasis in the city and spend the rest of the morning exploring Australia's oldest Botanic Gardens. Here you can explore and capture the spectacular themed gardens, filled with vibrant displays of flowering plants, trees and tropical gardens. The oldest tree in the gardens, the Weeping Lilly Pilly, was planted in 1828 and is a sight of natural beauty. There are plenty of spectacular shapes, textures and colours that will all make for incredible photo opportunities.
3. Secret Streets and Hidden Laneways
Sydney is full of unique artwork throughout its secret streets and hidden laneways, where you'll find urban walls filled with vibrant and inspiring murals. We recommend Sydney's coolest neighbourhood, Newtown, where streets and laneways are full of inspiring multi-storey murals, including an enormous mural of Martin Luther King on King Street. Or head to St Peters to see Sydney's answer to Melbourne's Hosier Lane, May Lane, where every inch of concrete is caked with colourful paint. You just need to know where to look!
4. Sydney Tower Eye
Finally, you can make your way to Sydney Tower Eye where you will have the best view of the sunset in the entire city. The Observation Deck is the tallest in Sydney at 250m above ground and gives you 360-degree views of Sydney. Capture the sun setting over the city and then watch as the city transforms from day to night. Capture the stunning city lights that light up the Sydney skyline. You'll have so many stunning photos, the hardest decision will be deciding what makes it to Instagram…
Get snap happy, book your tickets today!