Best place to see the Super Moon
Wednesday August 2nd 2023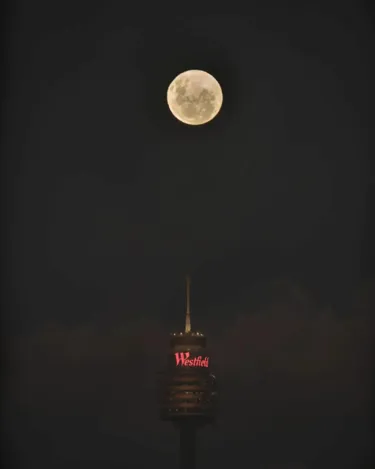 Why you should watch the Super Moon from the Observation Deck. 
Missed out on the August Super moon? Surprise, this month Sydney skies are putting on a celestial show with not one by two Super moons, plus the Perseid Meteor Shower. This rare 2nd Super moon is set to take place on the 31st of August and the meteor shower will be reaching it's peak on the 13th and 14th of August.
We Asked CHATGPT for FOUR Reasons why you should see the next Super Moon from Sydney Tower Eye. 
Spectacular View:
Observing the Full Moon from the Sydney Tower Eye provides a truly breath-taking and unique experience. As the highest point in Sydney, the tower offers unobstructed panoramic views of the city and its surroundings. The sight of the Full Moon rising or setting over the iconic Sydney Opera House, Harbour Bridge, and sparkling city lights creates a mesmerizing and unforgettable scene.
Romantic Atmosphere:
For couples seeking a romantic outing, the Full Moon at Sydney Tower Eye sets the perfect ambiance. The soft glow of the moon, combined with the twinkling lights of the city, creates a magical and intimate setting, making it an ideal spot for a romantic date night or proposal.
Lunar Observations:
Astronomy enthusiasts and stargazers will appreciate the opportunity to observe the Full Moon up close and personal. Sydney Tower Eye has 360 degree views and is open till 7pm, allowing you to track the moon as it starts its arc over the night sky. 
Photography Opportunities:
 Whether you're a professional photographer or just enjoy taking beautiful snapshots, the Full Moon at Sydney Tower Eye offers fantastic photo opportunities. Capture stunning cityscapes with the illuminated moon in the backdrop or experiment with long-exposure shots to create captivating nightscapes. Make sure you get there early to set up the perfect spot. 
Remember to check the schedule for the Full Moon's appearance and upcoming Sydney Tower Eye to make the most of your visit. Additionally, consider booking your tickets in advance to avoid long queues and ensure a seamless experience. This celestial event really is once in a blue moon…