Instagrammable Sydney: The 10 Best Photo Spots In Sydney
Thursday February 14th 2019
Sydney, Sunset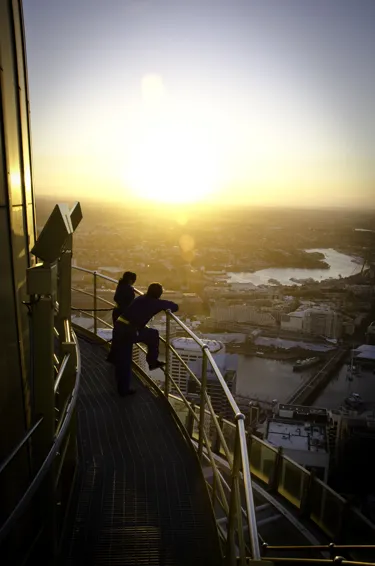 Sydney is a photographic gem, an incredible city to capture and share on your socials. If you're a fan of photographing urban environments, Sydney's got more than its fair share of heritage buildings and contemporary architecture. Or, if you love snapping natural wonder, its sweeping vistas, beautiful beaches and hidden spots will have you taking pics here, there and everywhere. Here are some must-have shots to snap and share.
The Opera House
When you think Sydney, these white sails come to mind; as our top draw landmark, this dramatic structure is an Instagram no-brainer. Get a stunning shot from any angle; from near or far, under the sails looking up or from the ferry as you float by.
The Harbour Bridge
Affectionately known as 'The Coathanger' by Sydneysiders, this iconic span is an effortlessly photogenic piece of architecture. This vast stretch of steel carries cars, trains, bikes and people on foot, so you can either walk across it and take a snap or get a pic of it in all its glory from further away.
The Harbour
This beautiful body of water is what makes Sydney, Sydney. And there's no better place to see this sea than from the Bridge itself. From up there, you and your camera will have a 360° view of watery splendour that you can boast about online. 
Sydney Tower Eye
No trip to Sydney is complete without a visit to Sydney's highest point. Known as 'Centrepoint,' by the locals, from the Observation Deck, you can get 360-degree views of stellar Sydney, from 250 metres above the street level. These shots will shine on your socials; as the last place to catch dusk, you're guaranteed an Insta-worthy sunset.
Barrenjoey Headland
Even though you have to work for this one, climbing the Barrenjoey headland in Sydney's Northern Beaches is an adventure with a pretty payoff. When you get to the top, look over the gorgeous greens and blues to capture the vista. Try taking a panorama for the full effect.
Observatory Hill
This quintessential place is a park like no other. Make a beeline for the rotunda to get a romantic shot of the harbour city. This might be one of the city's most memorable views; a short walk up the hill and this Instagrammable outlook will wow on your socials.
Mrs Macquarie's Chair
This sandstone rock was fashioned into a seat for Governor Macquarie's wife by convicts in 1810. Legend has it, she sat here and watched ships sail into Sydney, but today it's a vantage from where you can get a snap of Sydney's two most famous landmarks together.
North Sydney Pool
If it's hot, head to this iconic pool for a refreshing dip, and you'll see why it's a swimming spot with a backdrop to die for. Perfect your stroke, then take a photo of this unique pocket of the city for a genuinely Insta-worthy pic.
MacCallum Pool
A well-kept secret, this harbourside pool has views of Sydney that have to be seen to be believed. Away from the crowds, you can marvel at the whole skyline; wait for sunset for that wow moment. The best part is, you can do some laps too.
Bondi Beach
Another must-see, this beach is Sydney at its best. At any time of day, you can take to the sand and surf for a photo of the action, or walk around the headland to take a shot looking back. No Instagram feed is complete until it features a picture of Bondi Beach or its quintessential ocean pool, Icebergs.
QVB
This beautiful building is gorgeous both outside and in. Wander along the streets in search of the best shot of this beauty, circa 1898, then venture inside for a coffee, some shopping and some more pics. Remember to look up – some of the best pics are above you.