How To Spend a Special Anniversary Day in Sydney
Monday July 22nd 2019
Anniversary, experience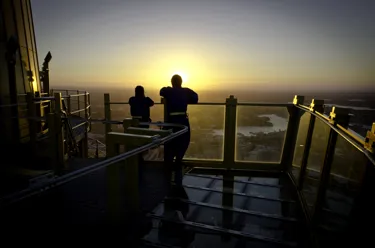 Sydney is the perfect setting for your special anniversary; from a casual twilight stroll to something more significant, celebrate uniquely. Whether you're celebrating a wedding, first date, friendship or family anniversary – pull out all the stops and mark the occasion in one of these unique ways.
A Love Lunch Story
For an unforgettable lunch, complete with a unique love story, you can't do better than finding a green nook within Wendy's Whiteley's Secret Garden. While you and your beau feast on cheese, olives and a slew of picnic treats, tell them the beautiful story behind this gorgeous garden. Wendy and her artist husband, the late Brett Whiteley, lived in Lavender Bay for 20 years. This is where Brett created his incredible paintings of the harbour, which still live-on as iconic Sydney images. While working through her grief, Wendy began transforming the valley below their home; clearing lantana, blackberry, privet and rubbish. Day after day, she worked, until the garden took shape as the jaw-dropping place it is today.
Dedicate and Donate
If you're looking to do something timeless and significant – nothing has more impact than donating a tree or bench. It's a beautiful way to acknowledge your love or honour the memory of someone. Choose somewhere in the Royal Botanic Gardens where your beloved loves to sit and watch the world go by, then donate a bench there. If the City of Sydney has spots that are more your vibe, find out if you can dedicate a bench there in their name. If you and your love share a special place under the sprawling shade of a gorgeous tree, you can also donate a tree in their honour, to the City of Sydney.
Celebrate New Heights
Take your love to new heights by sharing an unforgettable sunset at Sydney Tower Eye. Offering some of the most stellar views of Sydney, take your beau up to the Observation Deck, 258 metres above street level. Experience the magic of seeing day turn to nightfall as the sky lights up in vibrant colours. Make sure your anniversary is anything but ordinary; have a laugh and share the moment as you check out the bridge and other iconic Sydney sights from a unique perspective. Make sure you take some great selfies against the spectacular skyline. Then, print one out as a keepsake of your time at Sydney's Highest Point.
A Private Spectacle
If you time it correctly, you can walk from Sydney Tower Eye to Darling Harbour in 15 minutes. Take your time strolling through the streets, but make sure you get there in time for the spectacular Darling Harbour fireworks. They light up the night sky with an incredible display every Saturday night at 9pm on-the-dot! Cuddle-up at Cockle Bay and watch the show. Then grab a late bite to eat in one of the numerous waterside restaurants and enjoy some quality time to celebrate your special day.
If you think outside the square, there are many ways you can observe a special anniversary day in Sydney.