Dress for Success take women to new heights on International Women's Day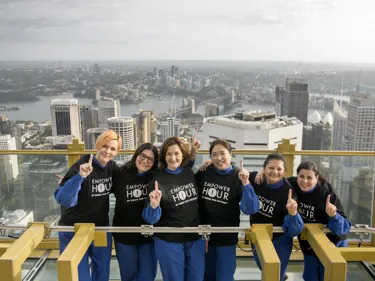 SYDNEY, Monday 8 March 2021 – #Choosetochallange is this year's International Women's Day global theme, and Dress for Success staff and clients did just that when they took on SKYWALK atop Sydney Tower Eye this morning.
The women's charity teamed up with SKYWALK this International Women's Day to help take women to new heights in their careers by officially launch Empower Hour, a campaign encouraging Australians to donate an hour of their pay in support of women struggling with unemployment.
On the inspirational walk, 268 metres above Sydney's street level, the Dress for Success staff and clients struck the #choosetochallange pose, holding their hands up high in a show of solidarity in their commitment to help forge an inclusive world.
The women also held up one finger for the cameras which represents one hour of pay via the #empowerhour campaign to help a woman who may be struggling with unemployment.
Leisa Sadler, Dress for Success CEO said:
"This year, International Women's Day asks us to choose to challenge, and that's what Dress for Success does every day. We are there to try and level the playing field so that all women have an opportunity to support themselves.
"Empower Hour is our biggest fundraising event of the year and it's a pleasure to be able to launch it atop of Sydney on SKYWALK. Today we've taken #choosetochallenge to new heights and I'm hoping that everyone today can choose to challenge and help our women find the confidence they need to help in their job search."
Dave Boyd, Sydney Tower Eye General Manager said:
"International Women's Day is such an important date in the calendar each year for us all to stop and reflect on how we can all improve when it comes to issues women experience such as career progression, pay gaps and stereotypes. I'm pleased that SKYWALK at the Sydney Tower Eye was able to assist this worthy charity in spreading the word about their services for women on International Women's Day and I wish them the best of luck with their fundraising efforts".
Funds donated to Empower Hour will be used to improve the employability of disadvantaged women, trans women and non-binary people by providing free professional clothing, a network of support, coaching and career development tools.
 -ENDS-
Images of Dress for Success team on SKYWALK: From left to right:
Kris Honeycomb, client
Beverly Brock Fundraising Manager
Leisa Sadler, CEO
Mabel Lam, client
Isela Caicedo, client
Therese Taylor, client
For more information on Dress for Success or to donate to Empower Hour, visit: www.empowerhour.org.au
@dressforsuccesssydney #dressforsuccess #iwd2021 #empowerhour
If you're ready to move to new heights, then be sure to book yourself in for a SKYWALK at Sydney Tower Eye by visiting: https://www.sydneytowereye.com.au/
@sydneytowereye #sydneytowereye