Jimmy and Brooke Took Their Relationship to New Heights and Now You Can Too!
Wednesday August 25th 2021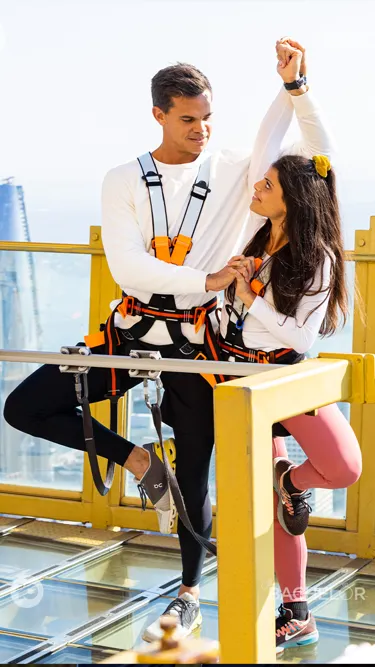 Register your interest to re-create The Bachelor's sky-high date with Sydney's highest Pilates class at Sydney Tower Eye:
Sydney –  Thursday 26 August 2021: Fans of The Bachelor Australia watched on as pilot Jimmy took occupational therapist Brooke 268 metres above the city for a surprise Pilates class atop Sydney's iconic SKYWALK at Sydney Tower Eye.
Guided by Body Flow Pilates founder and ex-SKYWALK instructor Lauren Burns, the Bachie and his date were taken through a sky-high Pilates session which saw the couple aim to achieve a sense of unity within their mind and body.
Viewers swooned as the romantic date encouraged Jimmy and Brooke to form a deeper connection through trust-building Pilates exercises on top of Sydney's tallest building. The elevated date also allowed for the handsome Bachelor to comfort a nervous Brooke as they walked out onto the eye-watering 268-metre-tall glass SKYWALK platform at the start of their date.
Surrounded by unrivalled 360-degree views of the city and beyond, SKYWALK truly set the scene for sky-high sparks to fly between the flirty pilot and his bubbly date!
View this post on Instagram
Now it's time for viewers to turn up the romance and impress their loved one or perhaps a flirty first date with this unique experience. In celebration of The Bachelor Australia Pilates session at Sydney Tower Eye, the attraction is giving Aussies a chance to register their interest in re-creating Brooke and Jimmy's date.
Once the attraction re-opens, Sydney Tower Eye will offer a limited number of Sydney's highest Pilates classes on SKYWALK. Guests can either book a group SKYWALK Pilates class or for extra brownie points with their date, surprise them with a private sunset Pilates session! But be quick – given classes are limited, it will be first-in-best-dressed, so the sooner you register your interest here the better!
SKYWALK is Sydney's highest open-air adventure located at the tallest building in the city. Whilst the Pilates sessions are for a limited time only, Sydneysiders can book a 60-minute SKYWALK tour for an unforgettable view of their city when Sydney's lockdown is lifted.
For further information about Sydney Tower Eye and to book tickets for the Observation Deck or SKYWALK, visit: www.sydneytowereye.com.au
For further information about Lauren and Body Flow Pilates, visit: www.bodyflowpilates.com.au