Justice Crew at Sydney Tower Eye
Friday December 23rd 2011
Events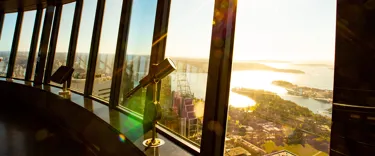 Australia's Got Talent Crew, danced up 1504 steps to the Sydney Tower Eye Observation Deck this week.
Justice Crew member Emmanuel Rodriguez, 22, described coming up the stairs as "amazingly tiring".
Once at the top the eight Justice Crew members took in the views from the Observation Deck as they mingled with competition winners - Lucky them!
To top that off the guys did went above and looked out to the best view of Sydney whilst on the SKYWALK. In true dancing style they did their awesome dance moves and handstands on the extended platform - 268 meters above street level!