Pledge challenge on National Face Your Fears Day
Tuesday October 11th 2022
Sydney, Face Your Fears, National Day, Heights, Overcoming Fears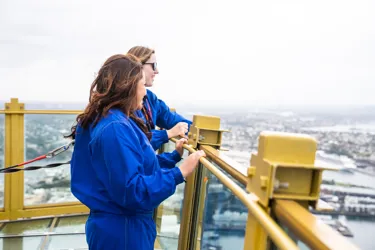 Sydney's top attractions launch pledge challenge on National Face Your Fears Day
Clinical psychologist advises and runs phobia workshops helping guests to:
Come face-to-face with snakes and spiders at WILD LIFE Sydney Zoo
Feed grey nurse sharks at SEA LIFE Sydney Aquarium
Conquer towering the heights of SKYWALK at Sydney Tower Eye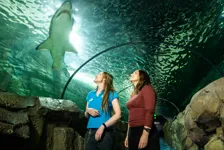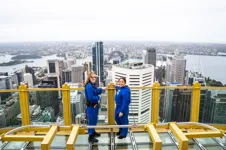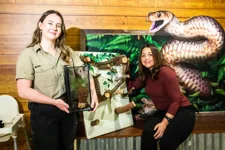 Sydney, Tuesday 11 October – On National Face Your Fears Day, SEA LIFE Sydney Aquarium, WILD LIFE Sydney Zoo, and Sydney Tower Eye SKYWALK have come together with phobia expert, clinical psychologist Gemma Cribb, to launch a pledge challenge for overcoming phobias.
Those with common fears of spiders (arachnophobia), snakes (ophidophobia), heights (acrophobia) and sharks (galeophobia) are being encouraged to bravely come forward, are being given advice and support, building up towards the chance to come face-to-face with their personal terrors.
Clinical psychologist from Equilibrium Psychology, Gemma Cribb, has worked with keepers, aquarists and guides to assemble an online series of top-tips and expert videos, advising guests why and how to conquer their terrors.
"Phobias are an intense and irrational fear of an object or situation. Anywhere from 3-15% of the population will have a phobia at some point in their life with select animals and heights being some of the most common.
"Phobias can really limit people's lives. A fear of heights can stop people from climbing ladders or crossing bridges. Someone with a fear of snakes and spiders may avoid bush walking or camping, and a fear of sharks can stop people going to the beach with their loved ones. They can miss out on a lot of good experiences.
"Understanding your fears and a process called 'graded exposure' can help you to face your fear in small doses, by first looking at related photos and videos, building towards coming somewhere like WILD LIFE Sydney Zoo, SEA LIFE Sydney Aquarium or SKWALK to face and conquer your fear once and for all.
"People who face their fear generally feel exhilarated and can be given a new found freedom. With fear no longer dictating their actions, they are able to enjoy a fuller range of experiences that life has to offer".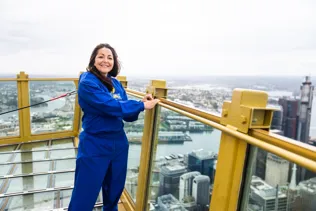 SKYWALK guide at Sydney Tower Eye, Liv Robertson, loves helping guests to conquer their fears: "We have a lot of guests who are nervous at first. But when they come up here and see this incredible view, I love to watch them start to enjoy themselves, getting more confident and to see their sense of pride kick in".
Keeper at WILD LIFE Sydney Zoo, Lily Williams, believes William the woma python is a great ambassador for snakes and has helped turn around opinions of many nervous guests who have met him. "Snakes are really important for our eco system and help keep pests in check. William is non-venomous and is one of the few species of snakes who will eat venomous snakes".
Aquarist at SEA LIFE Sydney Aquarium, Emma Mather loves how smart sharks are: "We have 13 different species of sharks at SEA LIFE Sydney Aquarium. There is a misconception that they are brainless man-eaters, but that is absolutely not the case. They are highly intelligent and all have their individual personalities.  Grey nurse sharks have a bad rep as 'man-eaters' but they are more like the puppy-dogs of the sea".
Those with the best pledge stories, will be invited to come to these top Sydney attractions, with their nominated support buddy, to have an intimate phobia workshop with Gemma, before being walked through facing their fear.
Three galeophobia sufferers will be invited to SEA LIFE Sydney Aquarium to feed some sharks. Three arachnophobia and/or ophidophobia sufferers will be invited to WILD LIFE Sydney Zoo to come face to face with some spiders and snakes and three acrophobia sufferers will be invited on a private SKYWALK at Sydney Tower Eye, each to conquer their fear. 
Keepers, aquarists, guides and Gemma will all be with them, on each step of their journey towards reaching their goal.
To pledge to face your fear, and for the chance to win an intimate workshop with clinical psychologist Gemma Cribb, visit Face Your Fear | SEA LIFE Sydney Aquarium (visitsealife.com)