Oldies on the Edge!
Friday July 13th 2012
SKYWALK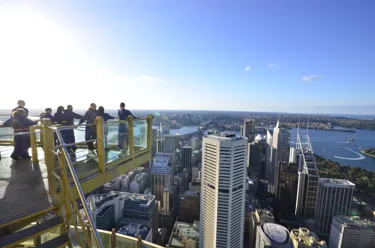 The 5pm SKYWALK on Sunday 8th July, 2012, was full of laughter, cheer and smiles almost the size of Luna Park. Anyone who was not on this walk would have mistaken us for a crazy bunch of drunks, but I assure you we were all 100% sober. We had the alcohol breath test to prove it.
We were all on a natural high, which is what tends to happen when you step onto the highest outdoor viewing platform surrounded by 360 degree views of beautiful Sydney. The gorgeous sunset even seemed to linger a little longer that day, which made our walk that extra bit special.
Thank you to the lovely ladies, who inspired me to write this blog. Dare I say they were all middle aged and said to me that my next blog should be about oldies on SKYWALK. Ha!
Join us on SKYWALK
So, here's a shout out to all the oldies out there - make your visit to The Sydney Tower Eye a memorable one by joining us on a SKYWALK.
Enjoy the fresh air, insightful commentary and the rush you get from being on top of Sydney. Experience an exceptional guided tour like no other. You're never too old for SKYWALK - Sydney's highest and best viewing attraction.
So don't just read or hear about other people's SKYWALK experiences - get out there and share your story! Why should the young ones have all the fun, right?
Get your discounted SKYWALK now!
PS - And remember, there's nothing to fear, because SKYWALK is more serene than extreme!
Blog by Kannyka :)