Olympic SKYWALKERS
Thursday July 19th 2012
SKYWALK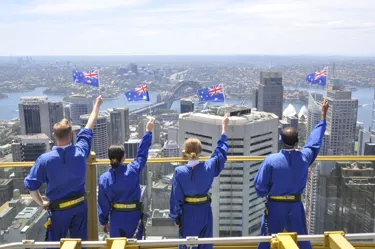 The early morning Sydney blue sky was dominated by vibrant splashes of green and gold as our very own golden girl Michelle Rzepecki, along with her fellow elite athletes Tyan Taylor and Jennifer Blow virtually had Sydney at their feet.
Having successfully qualified for the Australian Paralympic Goalball team, the girls who form part of a team of six will represent Australia in the 2012 London Paralympics. This has definitely been a long time coming which is why the ecstatic trio celebrated this momentous achievement on Sydney's highest outdoor viewing platform-SKYWALK. There were smiles all the way through, along with playful team shots, thanks to our very creative photographer and SKYWALK guide Cathy.
Doing Australia proud!
We are extremely proud of Michelle as she embarks on this exciting journey in her sporting career. Michelle has been competing since 2002 and first competed for Australia in 2011. Her passion for goalball and its future growth is evident in her active involvement in the sport over the past 10 years.
On behalf of The Sydney Tower Eye team and the whole of Australia, we wish you all the very best! We will be watching and cheering you on the big screen. Until then, back to work Michelle, you're still in Sydney, not London.
Blog by Kannyka :)