Spring has spung in Sydney!
Tuesday September 11th 2012
Sydney, SKYWALK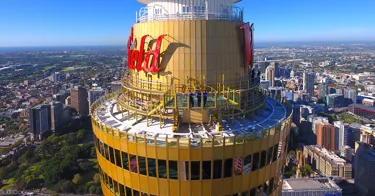 Spring has sprung and what a beautiful start it has been so far. Undeniably Sydney is magnificent across all four seasons, but spring time is the favourite among locals and visitors. Why? The flowers are blossoming, the weather is warmer, and romance is in the air. It's almost like a re-birth.
This is the perfect time to be out and about. Embrace this transition, be part of this love affair and make the most of springtime in Sydney by doing a SKYWALK. Whether you "spring" this up on someone or book online together, make it quick or you'll miss out.
If you plan on venturing out afterwards and soaking up Sydney's wonderful outdoors, our SKYWALK guides and observation deck staff can assist in getting you to popular places to visit in Spring; The Royal botanic gardens, beaches, and suggest coastal and nature walks.
SKYWALK at the Sydney Tower Eye offers the best views in the city and is one of the leading family activities in Sydney. Book online and save up to 25% and at least 10%.
Get your discounted SKYWALK now!
Blog by Kannyka :)