Super Moon!
Friday May 4th 2012
Events, Sydney Tower Eye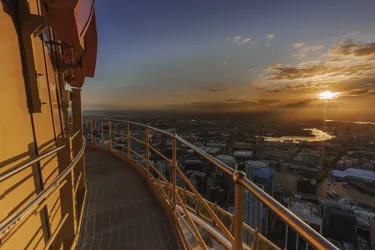 On May 6th at 1:36pm in Sydney, it is reported that we'll be experiencing the largest full moon of 2012. This phenomenon is known as a 'Super Moon', or , to give it its correct scientific term, a 'perigee moon'.
This Sunday's perigee moon is predicted to be 14% bigger and 30% brighter than any full moon this year. Even though the moon is at its closest point during daylight hours, it will still be noticeably larger by nightfall, making for a stunning photo opportunity - weather permitting!
The best time to look is when the Moon is near the horizon. For reasons not fully understood by astronomers or psychologists, low-hanging Moons look unnaturally large when they beam through trees, buildings and other foreground objects. On May 5th, this Moon illusion will amplify a full Moon that's extra-big to begin with. The swollen orb rising in the east at sunset should seem super indeed.
See this once-a-year event from the best viewing point in Sydney - the Sydney Tower Eye! Not only will you have the best view with no obstructions, you'll be so high up at 250 metres above street level that the werewolves won't be able to reach you.
The Sydney Tower Eye is one of the leading visitor attractions in Sydney, offering the best views of the stunning harbour city.