Sydney's best sunset spots
Tuesday August 6th 2019
Sunset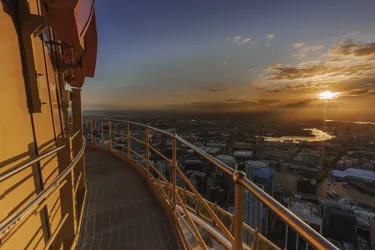 You can fit a lot into 24 hours in Sydney. From sunrise to sunset, here are our favourite ways to start and end the day.
Breakfast at WILD LIFE Sydney Zoo
At WILD LIFE Sydney Zoo, gum leaves are on the breakfast menu. No – not for you – for the resident koalas! The early morning Koala Breakfast is an experience you won't find in any other country in the world; indulge in a hot buffet breakfast, minus the eucalyptus leaves (the closest you'll get is spinach!). Brekky starts at 7.15am on Koala Rooftop, which means you'll be at the zoo before the crowds arrive. It's a beautiful time of the morning, as the city slowly wakes up. It's also the time when the animals are most active. A professional photographer will snap a pic of you with a koala, so you can share your experience with family and friends.
After breakfast, follow your guide around the zoo for a highlights tour. See all the unique native Australian animals, including the 'Aussie Big 5:' Koalas, Kangaroos, Crocodiles, Wombats and Platypus! Book your breakfast at least 48 hours in advance, so you don't miss out.
Sunset at Sydney Tower Eye
You haven't seen a Sydney sunset until you've experienced it from the top of Sydney Tower Eye! Take advantage of the 360-degree views; putting you in prime position to see a sunset you won't forget!
I Can See a Rainbow
Red and yellow and pink and green; watch as the colours of the sunset change through the spectrum, in beautiful contrast to the rugged Blue Mountains. It doesn't matter which season you visit because Sydney is renowned for spectacular sunsets all year-round. See the setting sun reflected in the tower windows across the central business district, and watch how the light plays over the canvas of the endless ocean. It's a classic postcard moment.
Golden Hour
Photographers often talk about the special quality of Australian light. It can be harsh, with intense blue skies and bright sunshine. But, an hour before sunset, when the sun is low in the sky, this intensity softens. Known as The Golden Hour, this is when a soft, golden warm light spills over everything. It makes for heavenly portraits, so make sure you capture a shot of you and your cohort!
After Dark
Once the sunset fades, the city puts on its display. Look down to see the bright lights and glittering towers. Follow the networks of street lights that trail into the distance, to get a sense of Sydney's actual size! There's not much you can't see from your vantage point on the observation deck, 268 metres high!
Whether you're an early bird or a night owl, Sydney puts on a stunning show at both ends of the day. Enjoy the experience, and don't forget to share your best pics on Instagram!