Sydney's Most Romantic Date Night Ideas
Tuesday October 23rd 2018
Sydney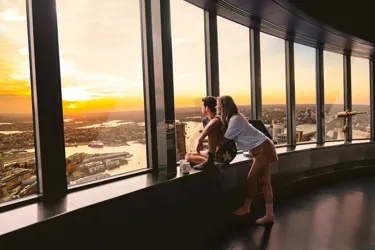 If you're looking for date night ideas in Sydney, then you've come to the right place. You might not think it but Sydney can be one of the most romantic places, you just have to know where to go. So whether it's a first date, you're looking for fun date ideas or cute date ideas or just something a little different, we've planned out the perfect date that is guaranteed to impress.
Pack a picnic and head outdoors
What better way to start your perfect date than a picnic in a beautiful location. There are many secluded beaches and perfectly manicured gardens that you can take advantage of around the city, such as Wendy's Secret Garden in Lavender Bay or Milk Beach in Vaucluse. If you don't want to be completely secluded and like watching people walk by, try Hyde Park, Bradfield Park, or the Royal Botanic Gardens. What's more romantic than a picnic packed for two, and a beautiful Sydney view.  
The Most Romantic View in the Entire City
On the scale of romance, there isn't much that will beat a good sunset. Combine that with 360-degree views of Sydney, 250m above ground and you have yourself the ultimate date location. After your picnic head up to Sydney Tower Eye's Observation Deck – the best place in the city to capture the sun setting over the iconic Sydney skyline. Admire the bustling streets below, from the quiet of the Observation Deck and take advantage of the great photo opportunities that are sure to bring in the likes on social media.
The city is your oyster
After you have captured the amazing sunset, there are so many more things you can do. If you're looking for a nice meal, why not head down to Darling Harbour which is full of waterfront restaurants or, if you'd like some entertainment, hop on a showboat where you'll have a delicious meal and great entertainment. Just looking to head for a drink? Try some of Sydney's cool underground bars or hip rooftops that are guaranteed to be the perfect end to a perfect date.
What are you waiting for? Book your tickets to Sydney Tower Eye today, and amaze your date.