Sydney Sparkles by Night
Tuesday June 19th 2012
Sydney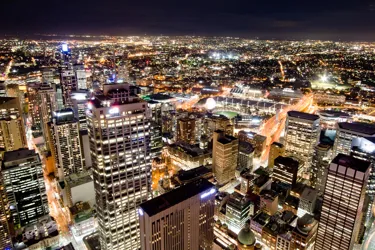 Even now we've farewelled the Amazing Vivid Festival for another year, Sydney continues to sparkle every evening. Everywhere you look, from left to right, something wonderful catches your eyes. So let us take you on a sensory journey of what you will see from the Sydney Tower Eye Observation deck and SKYWALK.
Northern compass point:
Observe two of Australia's most recognisable landmarks come to life. See our beloved 'coat hanger' - aka the Sydney Harbour Bridge - sparkle with hundreds of white lights spread along its single span arch. Watch as the white sails of The Sydney Opera House steal the limelight from its neighboring buildings and marvel over the stunning arrangement of red and blue lights reflecting back on our beautiful Lavender Bay, and mixing in with our silky-smooth Sydney Harbour.
Southern compass point:
Watch as the fairy lights emerge from the figs and palms in both sections of Hyde Park. As your eyes wander across the road from the Western side of Hyde Park, see the beautiful earthy tone and Gothic style of architecture of one of Sydney's most treasured sites; St Mary's Cathedral illuminated under the white light.
Eastern compass point:
Your eyes are drawn to the attention grabbing red and white lights of the famous Coca-Cola sign screaming "LOOK AT ME!" Stories, smiles and laughter dominate this compass point - particularly popular with party-goers.
Western compass point:
See the colourful cocktail of lights reflecting into the waters of Darling Harbour and if you happen to be on the observation deck on a Saturday evening, that's even better as you get to see the famous Harbourside fireworks display from 8.30pm.
So why not spend a relaxing evening on The Sydney Tower Eye Observation deck or SKYWALK and watch as Sydney turns into an evening playground of colourful lights.