Sydney Staycation: Things To Do in Sydney This Weekend
Friday February 28th 2020
Things to do, Sydney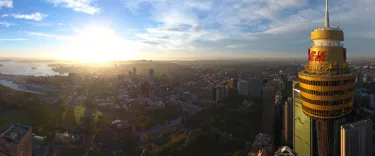 Have you ever noticed when you travel to another city, you often experience all kinds of 'touristy' things you'd never do at home? Guided walks, new cuisines, tourist attractions and boutique hotels? It's time to look at our city with fresh new eyes because there are amazing things to do in Sydney this weekend! Check out our guide for the ultimate Sydney Staycation.
Glamping
Start your mini holiday in your city with a spot of glamping. This is no DIY-tent, sleep on the ground type of experience. This is fully set up luxury tents with billion-dollar views camping! From your perch on Cockatoo Island, you'll have sweeping views of the Harbour Bridge and the city. Watch the sunrise over the harbour and see the first ferries on their morning commute.
Revamping
Sydney has a history of revamping old pubs and The Clare in Chippendale is a notable example. What was once a dingy local watering hole (complete with sticky carpets) is now a super-glam boutique bar with attached hotel. The renovation has polished the venue's old-world charm, and you're perfectly positioned to step out onto bustling Broadway to wander through Sydney's newest social hotspot. Be sure to check out White Rabbit Gallery for contemporary art and Spice Lane, with options for authentic Asian cuisine. Paramount House is another successful renovation story. This gorgeous 1940s building was once home to Paramount Picture Studios. Now, the style is chic; think indoor plants, plump oversized cushions and exposed brickwork. Stunning metal chevron panels line the upper part of the building. You're on the doorstep of uber-cool Surry Hills and Darlinghurst, so browse the shops, catch up for coffee and enjoy the humming urban heart of our city.
Dining
How long since you checked out Sydney's restaurant scene? A host of newcomers pop up regularly, with exciting options to try. The Gidley focuses on fantastic steak, in a cosy underground space. Kuro does it four ways: a coffee bar, cocktail bar, fine-dining room and casual Japanese eatery. At Ragazzi, chef and co-owner, Scott Williams, brings his fine-dining experience to the table, and the proof is in the pork sausage pasta with pipis. In the Royal Botanic Gardens, the Botanic House menu was designed by Luke Nguyen. It's packed with umami-laden delights, featuring crispy chicken, pork belly and mud crab. Wander through the gardens afterwards to walk off your meal!
Viewing
The highest point of the CBD silhouette, the top hat on a pole… it's the place you went for a school excursion but haven't explored since. Well, now's the time to visit Sydney Tower Eye, because the exceptional view from the top has changed dramatically. So many buildings have shot up in Sydney since you last visited! There's a whole new district in Barangaroo, plus new suburbs and skyscrapers. The observation deck is a thrilling 250 metres high, and you can even step outside on a Skywalk! Take the 90-minute tour around the outside of the building, for a new perspective on the city. You'll fall in love with Sydney all over again.