Sydney Weather Forecast: Cool Days Ahead
Wednesday August 24th 2016
Sydney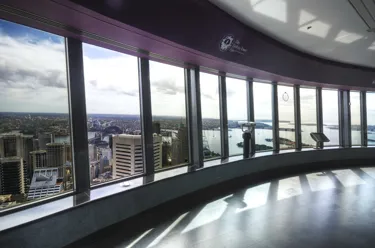 "Welcome to Sydney, the weather as we touch down is 18 degrees and rain."
When those are the words of the air hostess as you touch down in Sydney after your Qantas flight, don't cry. We understand how you feel…. We are not fans of the rain either…. but we've put together our top tips for enjoying the cooler days out in Sydney.
1. Ditch the umbrella and embrace the poncho. Not only will you be stylin' but the wind won't bother you as much either.
2. Plan ahead. Looking at visiting some of Sydney's best attractions? SEA LIFE Sydney Aquarium, WILD LIFE Sydney Zoo and Madame Tussauds Sydney are all right next to each other at Darling Harbour and completely indoors. Plan ahead and do all three at the same time - that's 6 hours of cool indoor fun. With restaurants every 5 metres, lunch and dinner are sorted too!
3. Have you already made bookings but it's raining? Give it a chance! We might be a little biased, but The Sydney Tower really is the perfect wet weather hangout. If you're feeling adventurous, throw on the provided jacket and come and experience SKYWALK in the rain, where you can look down on all the Sydneysiders getting wet (and having way less fun!) on the streets below. Or you might want to come inside, enjoy a snack, and look out over Sydney from the comfort of the heated internal Observation Deck.
4. Fill your belly. Keep warm by filling your belly with delicious coffee and food at Sydney's best café's. Westfield Sydney is full of amazing places to eat, and they're all indoors, right by Sydney Tower!
5. Did someone say Westfield? Yes, if you're eating at Westfield Sydney and visiting the tower at Westfield Sydney, you've no choice but to hit the shops at Westfield Sydney too! They're mostly indoors, so no complaining
Fans of the sun, fear not! We promise it will be out again soon. In the meantime, enjoy a cool day out at Sydney's favourite locations with the 5 for $90 deal below!