The Best Places to Watch the Sunset in Sydney
Thursday November 15th 2018
Sydney, Sunset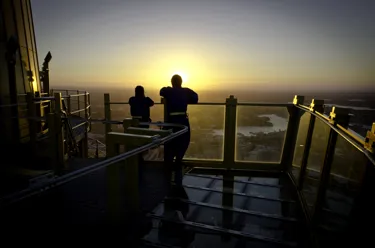 Watching the sunset over a city skyline is a thing of wonder and beauty, add in a glistening harbour and the feeling of bliss you experience is wonderful. There are many magical sunset locations in Sydney, so whether you are visiting the city or you're a long-time local, here are some of the best sunset locations in Sydney that will never cease to amaze.
Observatory Hill
This grassy park, while popular with both locals and visitors, is one of the quieter spots to watch the sunset in the heart of the city. It is easy to get to on foot or by public transport and you'll be able to see sweeping views of the Harbour and the Harbour Bridge. It's also an off-leash dog area so if you have a pup you can bring them to join in the fun.
Bradley's Head
Nestled on the edge of Sydney Harbour National Park, Bradley's Head is a very popular lookout to capture the sunset. Not only does it boast views of the Sydney Opera House, the Harbour Bridge and the city skyline, but there is also an old stone jetty where you will see fisherman waiting patiently for a tug on the line. Sit on the grassy amphitheatre or stroll along the beach and splash your feet in the water as the sun casts an orange glow across the sky.
Cockatoo Island
Hop on a ferry and capture the sunset from the middle of Sydney Harbour on Cockatoo Island. During the summer months, enjoy the sunset with live acoustic music, food and drinks, as well as views of the Harbour Bridge all year round.
Sydney Tower Eye
There is nowhere else in Sydney that offers unrivalled 360-degree views of Sydney than at Sydney Tower Eye. Not only is it the tallest building in Sydney, with the Observation Deck located 250 metres above ground, but it has to be one of the best places to watch the sunset in Sydney. Although the views to the west are stunning and uninterrupted, the magical orange glow can be seen no matter what way you are looking. So, whether you've spent a day in the city or you're heading out for the night, stop by Sydney Tower Eye to catch the sunset. It is a truly magical place to watch the city transform from day to night.