Top 10 Rainy Day Activities in Sydney
Monday June 24th 2013
Sydney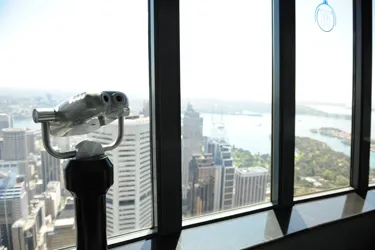 There's plenty to do in Sydney when it rains, including visitor attractions, museums, pubs, cafes, restaurants, shopping and much, much more.
We've put together a list of the top 10 things to do when it rains in Sydney. Read on...
1. Sydney Tower Eye Observation Deck
We would say that this is a great thing to do in Sydney on a wet day, wouldn't we? But it's completely true! Visitors to the Sydney Tower Eye Observation Deck can look out across the entire city for the best views from the highest point in all of Sydney, come rain or shine from the comfort of the heated (or air-conditioned in the summer) internal Observation Deck.
2. SKYWALK at the Sydney Tower Eye - SKYWALK currently closed
Yes - that's us again, but we're still telling the truth! SKYWALK is a truly all weather Sydney experience, where visitors can go one step further than the Observation Deck by heading out to take in the best sights of Sydney in the open air in all but the most extreme weather conditions. Strong winds and electrical storms are all that normally stop us heading out on SKYWALK, and to be completely honest, such cancellations are rare. There's nothing quite as exhilarating in Sydney than SKYWALK.
BOTH of the above Sydney activities come with our Weather Promise, meaning that in the event of bad weather, guests can get a FREE pass to return for another equivalent visit within 7 days. Find out more about the Weather Promise here.
3. Darling Harbour visitor attractions
There's plenty to see and do at Darling Harbour, Sydney's main entertainment and leisure precinct, which is just a short walk along Market Street from the Sydney Tower Eye. Attractions at Darling Harbour include SEA LIFE Sydney Aquarium, WILD LIFE Sydney Zoo, Madame Tussauds Sydney, The Australian National Maritime Museum, Powerhouse Museum, Kingpin and Strike ten pin bowling and countless restaurants, cafes and bars. Harbour cruises, tours and whale watching trips also depart from Darling Harbour (some of these activities are seasonal). You can save money on seeing many of these great Sydney visitor attractions with our heavily discounted Sydney attractions passes.
4. Shopping in Sydney
Sydney is without doubt one of the best places to shop in the entire southern hemisphere. From internationally renowned designer labels through to home-grown, locally produced goods, Sydney has it all. Modern shopping centres, such as the Queen Victoria Building and Westfield Sydney directly beneath us here at the Sydney Tower Eye, combine with markets in suburbs such as The Rocks, Paddington, Glebe, Bondi and many more, to offer a truly ecletic, world-class shopping experience for locals and visitors alike. There are few other cities in the world that can offer the breadth and quality of shopping like that of Sydney.
5. Australian Museum
For many people across the world, iconic Sydney epitomises Australia, so it's perhaps fitting that the Australian Museum is located here in Sydney - just a short walk across Hyde Park from the Sydney Tower Eye and SKYWALK. Opened in 1827, the Australian Museum offers visitors a journey through Australia's history, showcasing everything from remarkable fossilised remains, flora and fauna, aboriginal culture and exhibitions, such as the Wildlife Photographer of the Year competition.
6. Drinking and partying in Sydney
We Aussies love our pubs, beer and a good shindig, so it's only polite to embrace this culture with us during your visit to Sydney - everyone's welcome! From historic pubs, such as The Lord Nelson and the Hero of Waterloo on The Rocks, to stylish city bars and clubs like the legendary Ivy and the Establishment on George Street, Sydney offers a social scene to die for. Local beers, famous Australian wines and cutting-edge cocktail trends mix together to create the best night out - or nights out - of your life!
7. Eating out in Sydney
Sydneysiders know it, and visitors find out quickly upon arrival: Sydney is food heaven. High end Aussie contemporary restaurants, seafood, sushi, Asian, Italian, South American, Central American, African - everything you can imagine and more, Sydney will endulge your every fancy. Even fast food tastes better in one of the world's best looking cities. Be sure to book ahead to avoid disappointment on a rainy day though, otherwise it could be burger and fries in the rain with the seagulls on Circular Quay.
8. Run to the hills!
OK, we said 'things to do on a rainy day in Sydney', but one of those things to do, if the rain persists, is get out of Sydney and head for them there hills! The truth is you can escape the city and be up in the Blue Mountains within 90 minutes if you get a good run in the traffic heading west. The pretty mountain towns of Katoomba and Blackheath are perhaps the most popular places to visit, due to their jaw-dropping views over the Three Sisters and Govett's Leap respectively. Better still, another couple of hours into the mountains will take you through the Capertee Valley. It's a little known fact, but the amazing Capertee Valley is actually the world's longest canyon, and the second deepest - just after the Grand Canyon. It's truly mighty.
9. Do a Shark Dive in Sydney
Well, it's raining and you're going to get wet anyway, so why not get REALLY wet and jump in the oceanarium at Shark Dive Xtreme at SEA LIFE Sydney Aquarium with over half a dozen huge sharks, some measuring up to 3 metres in length! Australia and sharks go hand in hand - there are more species of shark in Australian waters than anywhere else on earth - so to hop in with them is to truly sample the real Australia. There are huge turtles, gigantic stingrays and other monsters of the deep all waiting to have a swim with you. Discounts are available when you book online...When in Rome...
10. Stay at the hotel
Why not? After all, Sydney boasts some of the most comfortable, well appointed and flat-out luxury hotels you're ever likely to lay your head in. There's the super high-end suites at the Star Casino hotels for the super high rollers, and the jaw-dropping harbour views from the upper levels of the Park Hyatt, overlooking both the Sydney Harbour Bridge and the Sydney Opera House - not too shabby. There's always cheap hotel deals to be had online at any one of the dozens of other Sydney hotels dotted around the city centre, surrounding suburbs and beaches. Cheap accommodation deals are a bit of a Sydney thing, and a quick Google of hotel deals in Sydney can yield a real gem, especially if you're visiting midweek or outside peak periods (i.e. school holidays).
There's always something to do in Sydney, no matter the weather, but the best way to start your Sydney visit is without doubt to head on up to the Sydney Tower Eye and SKYWALK to survey our amazing harbour city from over 250 metres above its buzzing streets.