The most unique and spectacular things to do this VIVID Sydney.
Tuesday May 23rd 2023
VIVID Sydney, Things to do, SKYWALK, Adventure, Experience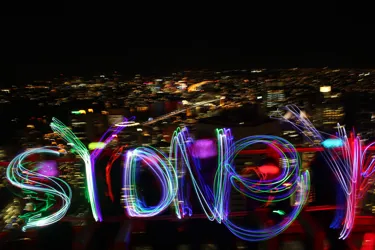 Have you arrived in Sydney for a weekend of lights, colour and food? Feeling overwhelmed with the hundreds of options for VIVID Sydney? Check out our top events and light shows we recommend you see while in town for this festival of light.
DANCE THE NIGHT
Kick off your VIVID Sydney experience on Friday night with Sydney's Highest Dance Party. 250m above the city, 3 DJ's and a group of your closest mates. This is the perfect way to start your VIVID, Sydney experience with a Silent Disco. All that's needed now is to work out what to wear. EYE vote something with sparkles. 
Book Now
A DAY ADVENTURE
I know what you are thinking, without the night will there be anything to see during the day? Well, at SEA LIFE Sydney Aquarium and WILD LIFE Sydney Zoo check out their "Life In Another Light". With interactive and immersive light displays, a bioluminescence beach and of course the creatures that usually only come out after dark. This is one adventure you don't want to miss out on.
Don't Miss Out!
LIGHT UP THE NIGHT
As the sun sets and the stars come out make your way to the highest point in Sydney. Want to touch the stars while becoming a part of the light show? Join in on a VIVID Sydney SKYWALK, this limited time only event will have you 268m above the city. With special light up accessories, you will become a kaleidoscope of colour, a star looking out on the spectacular views of the sparkling city.
Book Now
FOR THE FOODIES
All this exploring is probably making you hungry, right? For all the foodies out there, our top pick for your weekend is the VIVID Fire Kitchen. Your taste buds will be bursting with the flavours presented to you. Inspired by only the hottest restaurants, try a fire-inspired cocktail or flame-fuelled meals. You will not be disappointed by these mouth-watering options.
ESCAPE THE CITY
Crowds not really your thing? Escape the city and immerse yourself in a nature inspired adventure while still bringing the VIVID lights with you. Try an After Dark Zipline tour at Illawarra Fly Treetop Adventure. Strap on those bat wings and fly through the night 30m above the forest floor, this unique adventure is only 90 minutes from Sydney and has limited availability
Prepare to be taken into space with the largest drone show in the Southern hemisphere to date. With views of the Sydney Opera House and Sydney Harbour bridge, the dazzling light show will light up the skies. Your imagination will fly to the heavens as you witness the brilliance of planets, and other surprises along the way. This is the perfect way to end your VIVID Sydney experience. 
Vivid SKYWALK
Online From
$119
Per Person
Marvel at 360-degree outdoor views of Sydney and beyond during Vivid Sydney
60-minute experience, including fully guided SKYWALK tour around the outside of the top of Sydney Tower
Unlimited indoor Observation Deck access before your SKYWALK tour
Have fun with light-up accessories
SKYWALK Photopack included to take home!