What to do for Christmas in Sydney
Wednesday November 28th 2018
Christmas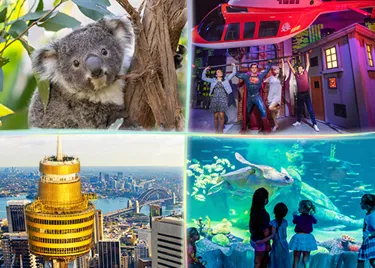 It can be hard being a tourist in a strange place at the best of times, never mind over Christmas when you're away from family and friends. So whatever the reason you're looking for things to do in Sydney on Christmas Day, we highly recommend Christmas in the sky at Sydney Tower Eye. Most of the city shuts down on Christmas Day, but not us, and here are some very good reasons why this is where you should spend Christmas in Sydney.
Escape the summer heat
Christmas in the southern hemisphere falls right in the middle of summer, meaning Christmas in Sydney can be HOT! Really hot! So escape the summer heat and head 250 metres above ground to the indoor Observation Deck. With 360-degree views of Sydney, you can explore the sights of Sydney, all while staying cool.
The best views in Sydney
Standing at 309 metres tall, Sydney Tower Eye is the tallest building in Sydney and the second tallest in Australia. With the Observation Deck 250 metres above the city streets, Sydney Tower Eye offers unrivalled 360-degree views of Sydney. There is no other place in Sydney that shares the same magnificent views with us.   
A day of sightseeing in one place
With 360-degree views, you can see many of Sydney's iconic and hidden landmarks. With interactive touchscreens and telescopes, you can have a full day of Sydney sightseeing all from one convenient location. On a clear day, you can even see the Blue Mountains, located 80km away! How many famous sights will you spot?
We are open from 10am to 6pm
While many Sydney businesses close on Christmas Day, those that are open operate on reduced hours, but we are open from 10am to 6pm, so no matter what other festive activities you may have planned, there is always time to visit.
See more and SAVE!
If you're looking for even more things to do in Sydney over Christmas and New Year, why not combine your visit to Sydney Tower Eye with other top attractions in Sydney. Visit SEA LIFE Sydney Aquarium, WILD LIFE Sydney Zoo and Madame Tussauds Sydney – the more you see the more you save!