Win a Sky-high Sunrise Pilates Session!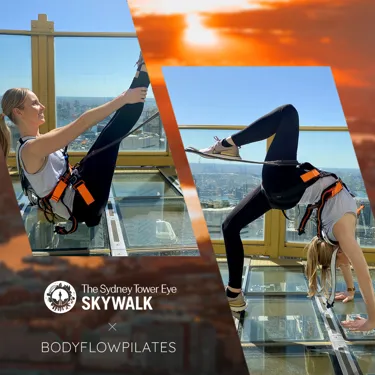 Sydney Tower Eye has teamed up with Body Flow Pilates instructor Lauren Burns to bring Sydneysiders an outdoor fitness class 268 metres above the city's streets!
Six Pilates enthusiasts will have the unique opportunity to take part in Sydney's Highest Pilates Class on Sydney Tower Eye's SKYWALK at sunrise on Sunday 29 November 2020.
The exclusive event celebrates the launch of Body Flow Pilates, which Lauren founded after practicing Pilates for many years. As well as having a background as a gymnast and a dancer, Lauren has worked as a SKYWALK Supervisor, which means she feels totally at ease on top of Sydney Tower!
"I can't think of a better place to launch Body Flow Pilates than on Sydney Tower Eye's SKYWALK. Pilates has provided me the opportunity to push myself and feel a true sense of accomplishment after every session. After the sky-high session, I expect the competition winners and I will be feeling a sense of complete unity within our mind, body and core connection," said Lauren.
Comment on this post on Sydney Tower Eye's Facebook page to enter to win one of three double passes to the first ever Pilates class on SKYWALK! Entrants will need to tag a friend and answer in 25 words or less "Why do you want to take part in a sky-high Pilates session?" to be in the running*.
Lauren and the six participants will be harnessed and tethered for a safe SKYWALK experience.
The SKYWALK is Sydney's highest open-air adventure located at the tallest building at the city. Whilst the Pilates session is a one-off event, Sydneysiders can book a 60-minute SKYWALK tour for an unforgettable view of their city!
For further information about Sydney Tower Eye and to book tickets for the Observation Deck or SKYWALK, visit: www.sydneytowereye.com.au
For further information about Lauren and Body Flow Pilates, visit: www.bodyflowpilates.com.au
*Competition Terms & Conditions:
The competition opens on 6 November 2020 and closes on 16 November 2020. The winners will be notified on 18 November 2020.
Entrants are required to tag a friend and comment in 25 words or less on "Why do you want to take part in a sky-high Pilates session?"
Entrant's friend who already get tagged can still enter another comment & tag to participate as another entry.
If selected, entrants will have to answer whether or not they have any pre-existing injuries
Entrants must be available for the Pilates class at Sydney Tower Eye's SKYWALK on Sunday 29 November 2020 from 6:30am – 7:30am
Entrants must be aged 18+
The winners will be selected by Sydney Tower Eye and Body Flow Pilates
Winning tickets are not transferable
SKYWALK's general T&Cs, including all health & safety compliance applies on this pilates session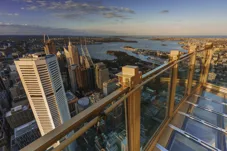 [Images Credit: @svendsania, @body_flow_yoga]