Brickman Cities powered by LEGO® City
Brickman & Sydney Tower Eye Present: Cities (Exhibition Has Now Closed)
The experience Brickman Cities powered by LEGO® City has now finished but be sure to sign up to hear the latest news!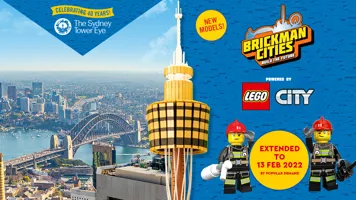 Exhibition Period: 26 March 2021 to 13 February 2022
To kick off the iconic landmark's 40th anniversary celebrations, the Sydney Tower Eye is hosting the exhibition created by LEGO® Masters judge Ryan 'The Brickman' McNaught - with over 20 models created from over 600,000 LEGO® bricks!
An exclusive exhibition experience created by The Brickman
Exhibition features eight massive never-before-seen-in-Sydney LEGO® brick skyscrapers
The Sydney Tower Eye Ticket also features: LEGO® 4D Movie, Emmet Meet & Greet and more!
To celebrate our extension, we're also premiering a brand-new LEGO® City 4D movie - Officer in Pursuit - seen for the first time ever in NSW!
SECURE YOUR ENTRY NOW (Exhibition Has Now Closed):
Please note that due to COVID-19 health & safety restrictions, our maximum capacity inside the exhibition space is 50 persons per hour. Once entered, guests can stay as long as you like but slots are first-come-first-serve basis. Please pre-book to secure your spot.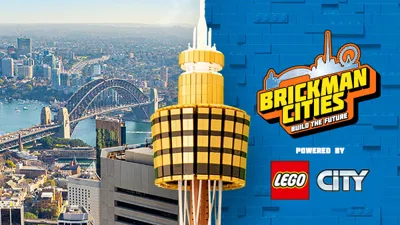 General Admission + LEGO® Exhibition
Unique LEGO® experience at the heart of Sydney!
Includes entry to Brickman Cities Exhibition
Includes entry to Observation Deck and enjoy interactive experiences such as LEGO® 4D Movie & more!
Limited spots available. Book online to secure yours!
More About the Exhibition
The exhibition showcases the life and architecture of five of the world's greatest cities - Dubai, London, New York, Tokyo and, of course, Sydney!
Visitors can trace each city's evolution all the way from 1000AD to today in a fun and educational way!

The action doesn't have to end there – guests with an inclusive Observation Deck or SKYWALK Admission Ticket can also experience as part of their visit:

An exclusive LEGO® 4D Movie - the only place in Sydney where people can watch!
Meet and greets with Emmet Brickowski from The LEGO® Movie (Available daily during School Holidays, and available on weekends during School Terms)
Free LEGO® colouring worksheets & activities to complete in front of Sydney views or to take home! (Ask our staff about it!)
And for an additional $5.50 - build and take home your very own mini LEGO City Helicopter (purchased onsite only while stocks last)

If you would like to step out to SKYWALK - Sydney's highest outdoor adventure after visiting the exhibition - please be advised children under 10 and under 90cm tall are NOT permitted on SKYWALK under any circumstances.
Other Ticket Options
Combine your LEGO® visit with SKYWALK or with other Sydney best attractions to save more! You will be able to add the 'Brickman LEGO® Cities Exhibition' ticket into your cart after selecting a ticket option below.
Frequently Asked Questions
The Sydney Tower Eye Observation Deck & SKYWALK and Brickman Cities Exhibition open Thursday to Monday inclusive during NSW School Term dates and 7 days a week throughout NSW School Holidays.  
Opening Hours:
Non School Holidays: Thurs to Mon 10am – 7pm 
School Holidays: 7 days 10am – 7pm
Last Entries: The last entry to Observation Deck is 6pm, and last entry to Brickman Cities is 5pm. Once entered, guests can stay as long as they like until the venue closes.
You can book online! When you book online and in advance you can SAVE! Plus, by booking online means you guarantee your spot. 
Yes. However, there are only limited spots available in the venue due to COVID-19 restrictions. We strongly suggest all guests to pre-book online to secure your spot. Also, if you book online and at least 1 day in advance you can save!
Sydney Tower Eye is located on Level 5 of the Westfield Shopping Centre. Here is all the information you need to find us.
Yes. Simply ask our friendly staff when you arrive!
Children aged 3-15 would require a Child Ticket. Children under 3 can enter for free.
You can find the booking specifically MAP holder at the above session on this page & enjoy a special discount to the exhibition at $18 (Usual Price at $22.5).
Our Weather Promise means you can book with confidence. If the weather isn't desirable on the day of your visit, you can return to our Observation Deck or SKYWALK anytime within the next 7 days. Find out more.
If you have further questions before or after your visit, you can contact our on-site team through emailing to  STE.POS@merlinentertainments.com.au. We will be in contact with you shortly.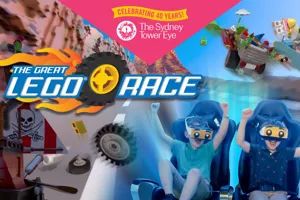 'The Great LEGO® Race' Virtual Reality Experience
FOR A LIMITED TIME ONLY - OCT 2021 TO FEB 2022
Upgrade your LEGO® experience to the fullest! Buckle up and go for a ride inside the most incredible, exhilarating and fun LEGO® race ever created! Immerse yourselves in a LEGO® world racing brick-built vehicles in the hopes of becoming the next Champion!
Find Out More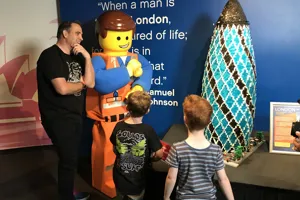 About Brickman
The Brickman is a team of skilled LEGO® artists and craftspeople led by Ryan McNaught, aka "The Brickman."  Ryan is a LEGO® Certified Professional, one of only 14 in the world and the only one in the Southern Hemisphere.  Ryan and his team have built some of the world's largest and most detailed LEGO® models, and are responsible for building models for LEGO® offices around the world!
Find out more about 'The Brickman'