Sydney Tower VIP Experience
Indulge in the ultimate day out at the top of Sydney's tallest building!
In the spirit of Destination NSW's 'Sydney, Love It Like You Mean It' message, Sydney Tower Eye and SkyFeast have united to bring Sydneysiders and visitors from all over Australia an extraordinary afternoon towering above the city.
Your Experience
General admission to the Sydney Tower Eye Observation Deck (Value at $31 pp)
Sydney Tower Eye SKYWALK: 60 minute experience, including a 45 minute tour around the outside of Sydney Tower (Value at $82 pp)
SKYWALK Photo Pack to take home! (Value at $50)
VIP guide to SkyFeast at Sydney Tower with window seats & table (Available only with this experience!)
Lunch session at SkyFeast: Sydney's favourite sky-high buffet (Value at $85 pp)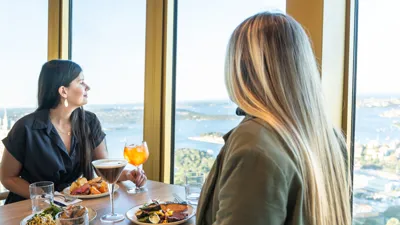 Sydney Tower VIP Experience
Ultimate Day Out on Top of Sydney!
Unique VIP experience at the top of Sydney's tallest landmark
Access to the Sydney Tower's Observation Deck, SKYWALK and SkyFeast
You are required to book a date & timeslot before your visit
Important Information
Guests must visit the Sydney Tower Eye & SKYWALK before lunch session at SkyFeast
Time slot selected is your SKYWALK walk time - all guests MUST arrive 60 mins before the time slot in order to allow sufficient time to check-in SKYWALK and enjoy your visit at the Observation Deck beforehand
Please be advised that due to operating restrictions the 'child' age for SKYWALK is between 10 - 15 years old and each child must be accompanied by an adult (one adult per child aged 10, one adult per three children aged 11-17).
Children under 10 and under 90cm tall are NOT permitted on SKYWALK under any circumstances.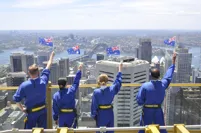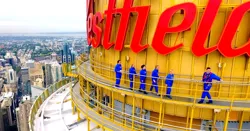 MORE ABOUT SKYFEAST AT SYDNEY TOWER
SkyFeast is part of the Sydney Tower Dining precinct, which is operated by Trippas White Group. Trippas White Group is a leader in the Australian hospitality industry, managing a diverse portfolio of iconic restaurant, café and event spaces across Australia. To find out more about SkyFeast: skyfeastsydneytower.com.au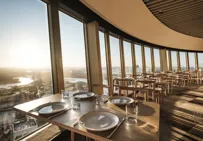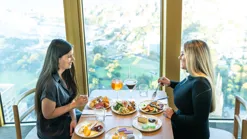 Frequently Asked Questions
Guests must be aged 10 and older to participate in SKYWALK. Guests aged under 17 are required to be accompanied by a guardian aged 18 and older. One adult per child aged 10 years, one adult per three children 11-17.
Guests must arrive 60 minutes before their booking start time and present photo ID upon arrival.
Please wear closed-in shoes and pants or shorts (no skirts or dresses).
Please bring photo ID and ensure you wear closed-in shoes and pants or shorts.
There are no loose items permitted on skywalk from public for safety reasons, including cameras. We provide lockers for all your personal belongings and take photos for you. But it is worth to note the VIP Experience does includes the photo package for you to take home, where our staff will be operating the camera instead!
Our Weather Promise means you can book with confidence. If the weather isn't desirable on the day of your visit, you can return anytime within the next 7 days. Find out more.
The whole VIP experience would take around 2.5 to 3 hours at Sydney Tower.
Yes, the VIP experience includes access to the internal observation deck before SKYWALK tour and lunch at SkyFeast. You can arrive as early as when we open if you wish to spend more time to take your ultimate snapshots here!

Accepted Forms of ID
Australian Residents
Current Driving Licence issued by an Australian state or territory
Current Proof of Age Card or Photo Card issued by an Australian state or territory
Current Australian Passport
International Guest
Current International Passport
Current Driving Licence/Proof of Age card WITH SUPPORTING IDENTIFICATION
For Example: A guest has identification (Foreign Driving Licence) with Name/DOB & Photo AND a credit card that matches by name.
NOT ACCEPTED
Photo on camera/phone of an ID/Passport
Credit card only
Foreign ID without supporting identification.
You can book online on this page! Pre-booking is required for the Sydney Tower VIP Experience as walk-up spots are not available. 
Sydney Tower Eye is located on Level 5 of the Westfield Shopping Centre. Here is all the information you need to find us.
As part of the experience, you will enter SkyFeast from the Sydney Tower Eye through the VIP passage.
If you have further questions before or after your visit, you can contact our on-site team through emailing to  STE.POS@merlinentertainments.com.au. We will be in contact with you shortly.
EYE look forward to seeing you on Sydney Tower!