New Years Eve at Sydney Tower Eye
31st December 2023
9pm & Midnight
Our 2024 New Years Eve Events are all SOLD OUT! Don't miss out on any of our exclusive events again, sign up to our newsletter below to have FIRST access to tickets for next year and other amazing events. 
A Sky-High Celebration (SOLD OUT)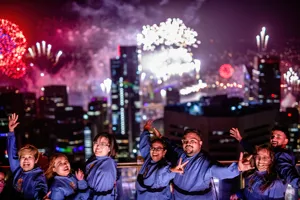 A bucket-list, one-of-a-kind adventure awaits you this New Years Eve at Sydney Tower Eye. Be one of only 15 lucky people to celebrate with us at either the 9pm or Midnight fireworks, for an evening of wonder and extravaganza at Sydney's highest point. Step outside onto our 268m high platform and experience the famous Sydney fireworks with 360 degree views. This is an intimate, exclusive event, with limited spots that will have you welcoming in 2024 from the ultimate viewpoint.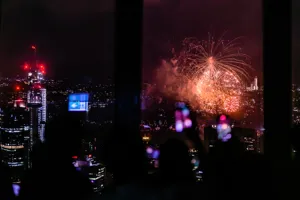 Perched high atop the city skyline at a staggering 250m high, our vantage point offers a 360 degree panoramic view, creating the best viewpoint in Sydney to experience the iconic 9pm & Midnight fireworks display. 
Join us for a non-alcoholic family-friendly event and make this New Year's Eve a truly unforgettable experience. With only 120 spots available, seize this once-in-a-lifetime opportunity and watch as the city comes alive with an symphony of light and colour. 
FAQS
Access to the Sydney Tower Eye Observation Deck 
One glass of non-alcoholic prosecco per person 
Light refreshments on arrival 
360 degree views of the 9pm & Midnight Fireworks from inside the Observation Deck 250m high 
For both the 9pm and Midnight fireworks - the following is included: 
A glass of non-alcoholic prosecco
Free digital photos + 1 printed photo
A fully guided SKYWALK tour
360 degree views of the 9pm or midnight Fireworks from 268m high
New Years Eve at Sydney Tower Eye is a non-alcoholic event. There will be no alcohol available for purchase. There will be non-alcoholic beverages available for purchase on the night. 

Please note for SKYWALK you will be undergoing a breath test and must be under 0.05 B.A.C.
Unfortunately, no alcohol is to be bought into Sydney Tower Eye. If found to be consuming alcohol, you may be asked to leave. 
If you have tickets for the 9pm Observation Deck or 9pm SKYWALK you can not stay for the midnight fireworks unless you purchase an additional ticket. 
If you have tickets for the 9pm Observation Deck and would like to upgrade your ticket to the Midnight session, please contact our team at STE.POS@merlinentertainments.com.au
Check out all you need for our SKYWALK tour here
For the 9pm Fireworks on the SKYWALK & Observation Deck we kindly ask that you arrive from 7:30pm. Last entry will be 8:15pm 
For the Midnight Fireworks on the Observation Deck & SKYWALK we kindly ask that you arrive from 10:30pm. Last entry will be 11:15am 
Arriving late will result in you losing your spot. 
The 9pm & Midnight Observation Deck Packages are family-friendly events and are open to all ages.
9pm & 12pm SKYWALK Fireworks - This event is for ages 10+ (please notes ages 10-17 must have a parent or guardian with them in order to participate)