VIVID SKYWALK
26th of May - 17th June 2023
Various times
10+
Experience SKYWALK during VIVID Sydney. Rise above the hustle and bustle and experience the stunning city lights during Vivid Sydney.
Missed out on the Vivid Sydney SKYWALK experience? Sign up below to be the first to hear about any new, unique SKYWALK experiences.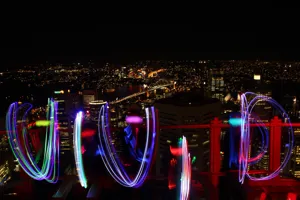 VIVID SKYWALK
Experience SKYWALK during Vivid Sydney
Marvel at 360-degree outdoor views of Sydney and beyond during Vivid Sydney
60-minute experience, including fully guided SKYWALK tour around the outside of the top of Sydney Tower
Unlimited indoor Observation Deck access before your SKYWALK tour
Have fun with light-up accessories
SKYWALK Photo pack included to take home!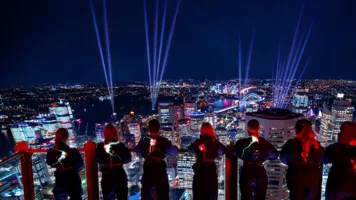 Light Up Your Night
Become a part of the light show as you illuminate VIVID Sydney from 268m high. 
Frequently Asked Questions
Everything for you to know before stepping out into the lights.
SKYWALK is for ages 10+. However we do have a ratio of 1 adult per 10 year old and 1 adult per 3 kids aged 11-17 year old. 

For Example. If you have a 10 year old and an 11 year old, there will need to be two adults. If you have an 11 and 15 year old, there will need to be one adult. 
To be able to do SKYWALK you must be a minimum of 90cm
Yes you must have with you: 
A passport or Driver's licence (a photo is okay, as long as it is eligible) 
Covered in shoes (no sandals, heels, boot heels) 
Please arrive at least 45min early. If you are late it may result in a re-booking fee. 
No, you can't take your phone or camera outside. However as part of our VIVID SKYWALK package all photos taken by our expert photographer are included. 
If you have any further questions please contact our customer care team at ste.pos@merlinentertainments.com.au
Please allow up to 72 business working hours during peak busy times for a response.