A Fair Dinkum Aussie Christmas
Sunday December 1st 2019
Christmas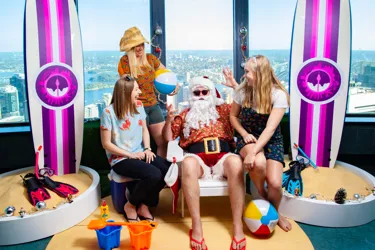 This has now ended, explore more great events here or buy tickets here.
A Fair Dinkum Aussie Christmas at Sydney Tower Eye
This Summer, Santa is getting ready to slip, slop, slap to celebrate a fair-dinkum Aussie Christmas from Sydney's ultimate viewpoint, the Sydney Tower Eye Observation Deck, 250 metres above street level!
From 30 November to 23 December, snap a quintessentially 'Aussie' festive photo (or selfie!) with Santa atop the Sydney Tower Eye, chilling on his beach chair with his boardies, thongs and sunnies from Sydney's ultimate viewpoint! 
Feel the 'sand' between your toes and the breeze of the palm trees above, as Aussie Santa meets and greets his way through the silly season, equipped with his surfboard and esky. Then, post your letter to Santa and his elves via the highest operating post office in the Southern Hemisphere!
PLUS, all summer long you can get your Instagram content fix and snap yourself within the Sydney skyline – but not as you know it – with 3D photo opportunities offering a whole new perspective of the city!
Santa's Aussie Summerland will be open at the Sydney Tower Eye from Saturday 30 November to Monday 23 December. Check the Sydney Tower Eye website for operating times.
Whether you're re-discovering your own backyard or visiting Sydney for the first time, there's something for everyone at the Sydney Tower Eye with unbeatable views, sunsets and of course – SANTA!
EVENT DETAILS:
What: A Fair Dinkum Aussie Christmas at Sydney Tower Eye
Where: Sydney Tower Eye, 100 Market St, Sydney
When: Saturday 30th November to Sunday 23rd December 2018. 3D Illusion photo opportunity available until end of January.
Hours: Nov 30 – Dec 13: 4:00pm – 7:00pm daily, 12:00pm – 6:00pm weekends
            Dec 14 – Dec 23: 12:00pm – 6:00pm daily
Cost: Santa photo included in price of admission
Ho Ho Ho! See what Santa has to say at Sydney's ultimate viewpoint: 
Missed seeing Santa? Make sure you sign-up to our newsletter to keep up-to-date!