Bliss n Eso x SKYWALK at Sydney Tower Eye!
Monday August 24th 2020
Live music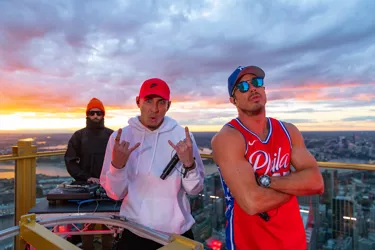 This has now ended, explore more great events here or buy tickets here.
Sydney – Monday 24 August 2020: Bliss n Eso have launched their latest single 'Lighthouse (feat. Jake Isaac)' in a breathtaking performance on top of Sydney Tower Eye's thrilling SKYWALK.
Recorded for ABC's music program The Sound, produced by Mushroom Vision, the hip hop trio stated their return with the brand-new track 268m above the ground at the city's highest outdoor viewpoint, marking the first time a music video has been filmed on top of the Sydney Tower.
Bliss, Eso and DJ Izm were harnessed and tethered to the building throughout the entire production, which saw them turn Sydney Tower Eye's SKYWALK into the most exclusive concert venue in town.
"It's a funny story actually, Eso and I came up to the Sydney Tower when we first made the group and wrote some rhymes. And now, however many years it is later, here we are shooting the first music video ever shot up here," said Bliss.  
"It was incredible to see the SKYWALK accommodating a performance of this scale. As an iconic Australian attraction, we are proud to have worked with Bliss n Eso and The Sound, which celebrates the best of the Australian music scene," said Dave Boyd, General Manager of Sydney Tower Eye.
"It's the first time we have hosted a production of this kind on the SKYWALK and we are definitely keen to explore more opportunities that allow us to showcase the attraction and the city in a new light," continued Dave.
Throughout the production all band members and crew members wore harnesses and were tethered to the building whilst also adhering to COVIDSafe guidelines.
Available on ABC and iView, The Sound is a dynamic new music show celebrating the movers and shakers of the Australian music scene. To watch Bliss n Eso's performance at Sydney Tower Eye, visit: www.iview.abc.net.au/show/sound
For further information about Bliss n Eso's new single 'Lighthouse (feat. Jake Isaac)', visit: www.blissneso.com
The Sydney Tower Eye Observation Deck and SKYWALK is offering a special $15 ticket to NSW residents during August! To take advantage of this offer before the end of the month, visit: www.sydneytowereye.com.au/news/nsw-resident-august-special-offer
(Photo credits: Mushroom Creative)