The ULTIMATE early morning sky-high dance event
Saturday May 4th 2019
Events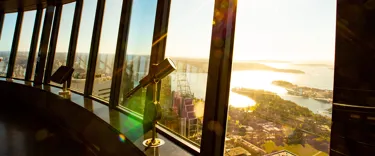 This has now ended, explore more great events here or buy tickets here.
Fancy starting your day with an early morning dance party, soaring 360° views of the city and overall good vibes? The Sydney Tower Eye and Daybreaker SYD have partnered to offer exactly that, with the second local instalment of the unique sunrise experience 'BLOOM AND BASS'!
On Thursday 9th May, be the first to bring in the sunrise from the Observation Deck on the tallest building in Sydney – the Sydney Tower Eye – and enjoy a sky high dance event which promises to put a spring in your step!
Ditch the gym for the dancefloor for a sunrise workout like no other; pre-game with some deep house yoga* with uninterrupted city views, or opt for barre under a shower of flower petal confetti.
Then it's time to take part in the epic signature Daybreaker dance party, a soul-moving secret performance by a local artist, a positive intentions session and healthy breakfast treats – all before a day's work!
DJ Veda amd emcee Mirrah will guide you through the sky – and the morning – as you dance sky high, unlock your D.O.S.E. and rise up above yourself as one powerful blossoming cloud of colour and happiness.
Hurry! There's only a limited amount of tickets left. 
*If you're joining for yoga, please bring a mat.