Escape the crowds and experience VIVID from above
Thursday May 16th 2019
VIVID Sydney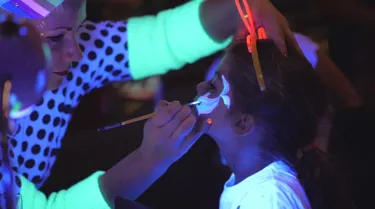 This has now ended, explore more great events here or buy tickets here.
Rise above the hustle and bustle of the streets and witness the moment the city transforms into a colourful light spectacular from VIVID Sydney's ultimate view point, the Sydney Tower Eye Observation Deck.
Guests to the Sydney Tower Eye can also become part of the colourful celebrations with FREE glow-in-the-dark face painting available for kids of all ages, every night during VIVID (24 May to 16 June) on the Observation Deck from 5 to 7pm.
And don't forget that you can capture the ultimate snap in the Sydney Tower Eye's unique and mesmerising pop-up light box, Endless Lights which offers a unique illusion and photo opportunity for guests. The experience was inspired by the alluring, vast Sydney skyline as seen from the Observation Deck of the Sydney Tower Eye which offers unrivalled views of the harbour city.
Glow-in-the-dark face painting (for kids and adults):
24th May to 16th June
5pm to 7pm