Experience a LIVE Sunrise Yoga Class at Home with Flow Athletic
Thursday May 7th 2020
Yoga, Virtual experience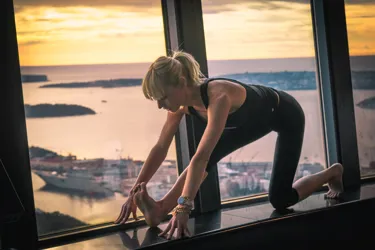 This has now ended, explore more great events here or buy tickets here.
Need some early morning inspiration? Experience a sunrise yoga class LIVE from Sydney's highest and ultimate viewpoint
For the first time, Sydney Tower Eye is providing a free live stream yoga class, 250m about street level
Sydney, Thursday 7th May 2020: In need of a new way to get your yoga fix at home? If the answer is yes, then rise early and join us from Sydney Tower Eye with an all-level, energising and virtual flow yoga class, led by Flow Athletic Co-Founder and Director of Yoga, Kate Kendall.
And while the Sydney Tower Eye Observation Deck may be no stranger to yoga classes, for the very first time this yoga class will be delivered LIVE via Sydney Tower Eye's Facebook page, whereby you can tune in on Wednesday 13th May at 7:00am.
Watch as the sun rises over the city from Sydney's highest and ultimate viewpoint, making for the perfect backdrop to a mindfulness flow yoga.
Flow Athletic is the complete fitness experience with a unique and first of its kind, 'Flow Philosophy', encouraging strength, cardio and yoga in balance, and boasts a team that is highly professional, skilled, fun and friendly.

Our doors may be closed for now, but that won't stop us from keeping you connected and seeing Sydney from home, along with providing early morning inspiration to help the mind, body and soul. So set those alarms and make sure you're following Sydney Tower Eye on Facebook to join in!