Golden Week All-You-Can-Eat Dumplings
Wednesday September 26th 2018
Events, school holidays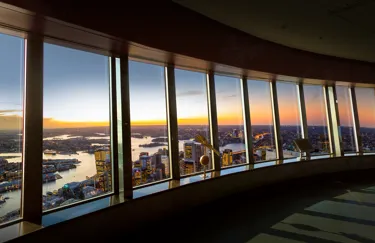 This has now ended, explore more great events here or buy tickets here.
For a limited time only, enjoy a "dumplings with a view" experience in partnership with dumpling specialists, New Shanghai!
From 1 October - 7 October, to celebrate Chinese Golden Week and school holidays, the Observation Deck will transform into a Chinese kingdom, complete with festive decorations, red and gold lanterns. Guests to the Sydney Tower Eye will be able to enjoy a selection of New Shanghai's best dumplings! With lunch and evening options available, the choice is yours!
All-you-can-eat dumplings key information:
Pre-bookings are essential
30 minute sessions
Lunch and dinner options available
Lunch from 12pm to 1pm. First session starts at 12pm and last session starts at 1pm, finishing at 1.30pm
Dinner from 6pm to 7pm. First session starts at 6pm and last session starts at 7pm, finishing at 7.30pm
Online tickets are not valid with any other promotion, discount or offer
Please arrive 30 minutes prior to your all-you-can-eat-dumplings start time, present your ticket to the admissions team
'A la carte' dumplings:
Not that hungry? Mix and match your dumpling creations at the pop-up station which features a limited edition Golden Pan Fried Pork Bun, created specifically for the attraction's Golden Week Celebrations. Also available for purchase on the observation deck during the week: Truffle Xiao Long Bao, Chicken and Celery Dumpling and Vegetarian Spring Roll.
Available for a limited time only!