Halloween Silent Disco at the Sydney Tower Eye
Friday October 21st 2016
Events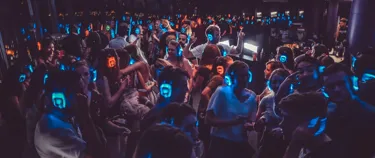 This has now ended, explore more great events here or buy tickets here.
On Friday 28 October, join us for Sydney's highest Halloween party at the Sydney Tower Eye. Dressing up is encouraged, the cocktails will be scarily good and the music will be themed so practice those 'Thriller' moves.
Brought to you by Silent Sounds and the Sydney Tower Eye, the 'Eye Live' silent disco will see event goers show off their moves while belting out their favourite songs at Sydney's most unique venue, a heart pumping 250 metres above the streets of Sydney.
With 3 different DJs operating on 3 different silent disco channels, friends will become foes (but just for the evening!) as they dance battle it out to their tune of choice. From the hottest hits to old school favourites, it's every music channel for themselves!
But, don't lose yourself in the music too much and forget to look up and out as you soak up the 360 degree views of the Sydney city lights.
For tickets to this strictly 18 + event that boasts the best view and sicket beats click the link below!