Happy 30th Birthday Sydney Tower!
Wednesday July 27th 2011
Sydney Tower Eye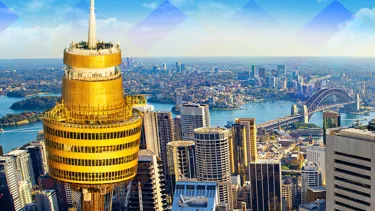 This has now ended, explore more great events here or buy tickets here.
Did you know that it's Sydney Tower's 30th Birthday this year? This iconic building will celebrate its 30th Birthday on September 23rd - the day the amazing viewing experience re-launches as Sydney Tower Eye.
Come celebrate this fabulous achievement by visiting, and experience the newly refurbished Sydney Tower Eye from 23rd September onwards. Starting from the bottom, the new Sydney Tower Eye take you through a brand new 4D cinema experience - the first ever 4D film produced in Australia!
On the Observation Deck you can now admire the 360 degree panoramic views of Sydney and its surrounds with state-of-the-art technology, including high powered binoculars and discover interesting facts about famous Sydney landmarks via the newly installed multilingual interactive touch screen panels.
And if you thought you couldn't go any higher join the SKYWALK, this premium experience allows visitors to soak up exhilarating, outdoor, open-air views 260m above ground level, on the roof of the Observation Deck!