Join In A Vivid SKYWALK And Get The Best View in Town!
Wednesday May 9th 2018
SKYWALK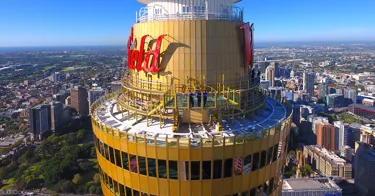 This has now ended, explore more great events here or buy tickets here.
Experience Sydney like never before and join in the city's most illuminating festival on a Vivid SKYWALK!
From 25 May until 16 June, don't miss your exclusive opportunity to get the best view of world-famous Vivid Festival from Sydney's highest viewing platform, as well as create your very own light display.
Operating daily at 6pm, guests on Vivid SKYWALK will be lit up with LED armbands, finger lights and glasses while they take in the spectacular view of the festival over the city. The 90 minute experience includes a 45 minute guided tour outside the famous golden turret of Sydney Tower, showcasing all of the key landmarks of the festival below. Your Vivid SKYWALK will provide the opportunity for once-in-a-lifetime photos of amazing patterns of light and colour, with the beautiful illuminated Sydney city as the backdrop. Vivid SKYWALK is an opportunity not to be missed!
Guests who purchase a Vivid SKYWALK will also receive entry to the Sydney Tower Eye Observation Deck inside the attraction, where state-of-the-art multilingual touchscreens and high powered binoculars will provide an even closer look at some of Sydney's famous landmarks.