Maxi Shield to host first ever Drag SKYWALK at Sydney Tower Eye
Monday February 17th 2020
Drag event, Maxi Shield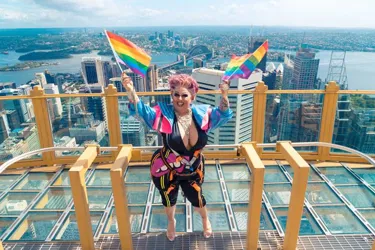 This has now ended, explore more great events here or buy tickets here.
Ladies and Gentlemen, Queens, Bears – and the sky-curious – get ready to don your brightest accessories, as the Sydney Tower Eye launches the first ever sunset Drag SKYWALK, hosted by Sydney's fabulous Maxi Shield!
As the sun sets over Sydney on Monday 24th February, the highest point in Sydney will shine bright with an abundance of colours, glitter, feather and sequins, as Maxi Shield takes the transparent glass SKYWALK stage, 268 metres above the streets of Sydney, for a drag performance like no other.
Kick off your night in the sky with a parade down memory lane, as Maxi points out and celebrates proud moments and landmarks in LGBTQIA Sydney history – from Kings Cross to Taylor Square, Oxford Street and beyond.
Strike a pose as golden hour falls, accessorised to the nines with props which best embraces your inner-Queen from Sydney Tower Eye's mystery box of goodies. Plus, enjoy a FREE photo from your Drag SKYWALK experience.
Maxi Shield – the "good girl" of drag - is one of Australia's most recognisable drag performers and this year, celebrates 25 years since first taking the stage. In her fabulous career, she has headlined Mardi Gras celebrations, closed the 2000 Sydney Olympics, opened the 2002 Gay Games, toured with Madonna for her Australian Rebel Heart Tour, and was crowned "Diva Entertainer of the Year 2015/16".
Tickets for this special Drag SKYWALK experience are limited, so be sure to book and avoid disappointment!
Event highlights: 
Missed the fun? Don't worry, you can still become a SKYWALKer through here!