Sky High Bao Bar
Friday January 27th 2017
Events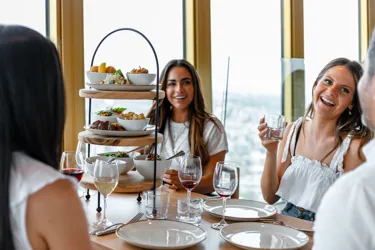 This has now ended, explore more great events here or buy tickets here.
From Friday 27 January to Sunday 12 February, when you visit the Observation Deck of the Sydney Tower Eye, you will be able to sample a mouth-watering, bespoke menu created by One Tea Lounge, inspired by the Year of the Rooster.
Known for its creative food concepts and infamous 'Baogers' which feature prominently on the pages of Instagram foodies across Sydney, One Tea Lounge's Sydney Tower Eye menu caters for the sweet and savoury tooth.
The menu features two food options: soft, pillowy Matcha Baogers with Braised Pork Rib for mains and for dessert, a delicious crunchy cookie shot filled with creamy matcha white chocolate. The two flavours, Matcha Green Tea and Red Fortune are better devoured, not sipped!
Once your bao bellies are full, you can soak up 360 degrees of the streets of Sydney from the Observation Deck of the Sydney Tower Eye. There will also be a custom photobooth on site for you to post your pictures to social media and a Wishing Wall to send good wishes to family and friends.
During Chinese New Year, we will be running daily Mandarin audio tours on the attraction's SKYWALK platform.
Want to get involved?  
All you need is an entry ticket to the Observation Deck. Don't forget, our best ticket deals are the Sydney Attraction Pass tickets - with prices as low as $18 per attraction when buying a $90 adult ticket for 5 great Sydney attractions!