Sunsets at the Tower
Thursday March 22nd 2012
Sunset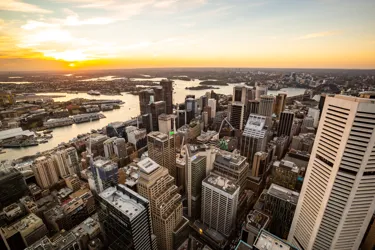 This has now ended, explore more great events here or buy tickets here.
Sydney Tower Eye offers the best view of Sydney, no matter what the season - and here's the proof!
We weren't kidding when we say we have the ultimate view of Sydney.
Above is a picture taken by Sean Davie. Originally from the island state of Tasmania in Australia, Sean has called Hawaii's Oahu north shore home now for well over a decade.
For most who practice surf photography Hawaii has always been the main drawcard during the northern winter months. The north shore surf attracts surfers from all over of the surfing world, which keeps Sean pretty busy.
During the quieter summer months Sean regularly heads exploratory magazine trips to out if the way locations around the world - So it was a treat to have him up at Sydney Tower Eye taking in the view of the best city in the world.
Experience breathtaking views of Sydney, during day or night any day of the year from the tallest building in the city.
For a limited time, if you're a NSW resident and purchase a flexi ticket online - you can March on in to SYdney Tower Eue for FREE for the rest of the year. The perfect pass to see the ever changing views of Sydney during Autumn, Winter, Summer and Spring.