Are you up for the challenge?
Monday August 12th 2019
Charity event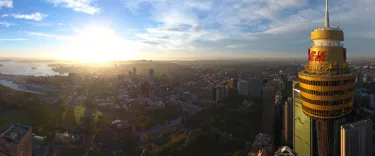 This has now ended, explore more great events here or buy tickets here.
How do you think you would go climbing a whopping 1,504 steps to the top of the Sydney Tower Eye?
On Sunday 25th August, the Sydney Tower Stair Challenge will be challenging Australians to climb a whopping 1,504 steps to do just that, in a bid to raise much-needed funds for Giant Steps, a charity dedicated to educating and supporting children and families living with autism.
Hosted by Stair Climb Australia (SCA) at Sydney's tallest building, the 2019 Sydney Tower Stair Challenge is in its 7th year and is aiming to be a record breaker - marking $1 million of donations since the first event hosted by SCA in 2013.
With 15 categories throughout the morning, from Elite Runners to Fancy Dress, Celebrity Challenge or Social/Walking teams, Australians of all ages and fitness levels are encouraged to put on their running shoes and take part to do their bit for charity, one step at a time!
The current record is held by professional stair climber, Mark Bourne, who has completed the climb in just seven minutes and 11 seconds!
So... are you up for the challenge?
Event Details:
What: Sydney Tower Stair Challenge
When: Sunday 25th August, 2019
Where: Sydney Tower Eye. Check in at Pitt Street Mall, and start line at 100 Market Street.
Cost: $40 registration fee, with funds raised going to Giant Steps.
More info: For more info or to register, visit https://www.stairchallengeaustralia.com.au/sydney-challenge.html